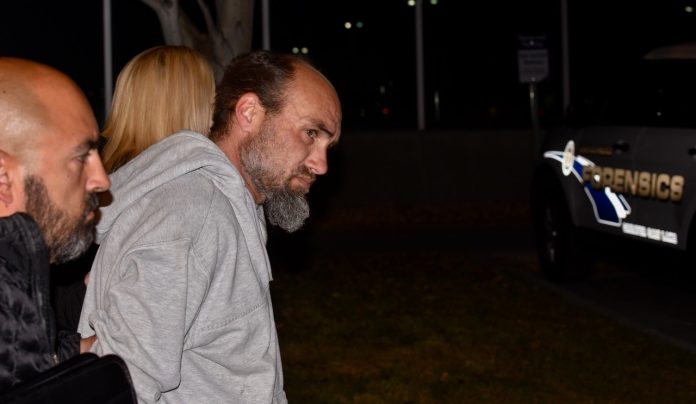 SOUTH SALT LAKE, Utah, Nov. 26, 2018 (Gephardt Daily) — South Salt Lake Police have released the name of a suspect they believe played a role the death of Officer David Romrell, who was killed after being struck by a car while investigating a burglary Saturday night.
The suspect is Jeffery Black, 43. He will be charged with homicide, burglary, obstruction of justice and more, according to a statement from the SSLPD.
Black answered a few questions as he was led toward the police car for transfer to jail, after initially saying "no comment."
"I'm sorry for the officer," he said, after being asked how he felt about Romrell's death.
Asked how he knew Felix Calata, 32, a fellow suspect who was shot and killed by police at the scene, Black said he had known Calata only two or three days.
"I'd only met him a couple times," Black said. "We were going to make some money. It wasn't a business (being robbed), the girl owed him money, so ….
"I'm done talking," Black said, before being asked if he knew Calata, who was driving, had hit an officer.
"I didn't know it was a cop," Black said. "I thought it was a mailbox."
Romrell, 31, died after being run over by two suspects outside a business near 3575 South and West Temple Street.
The driver, Calata, died at the scene. The second suspect — now believed to be Black — ran from the vehicle, but was arrested a short while later in a nearby neighborhood.
Salt Lake Police Chief Jack Carruth said Romrell was rushed to Intermountain Medical Center in Murray, where he died of his injuries while undergoing emergency surgery just before 10 p.m.
Romrell joined the South Salt Lake Police Department in January 2018.
The Marine veteran is survived by his wife and 4-month-old child.
"As much as we know the risks of this job, we are not prepared for this," said Carruth, holding back tears. "It's been very, very painful."
After his passing, Romrell's body was escorted by a massive police motorcade from IMC to the Office of the Medical Examiner in Taylorsville. Funeral plans are expected to be released later this week.