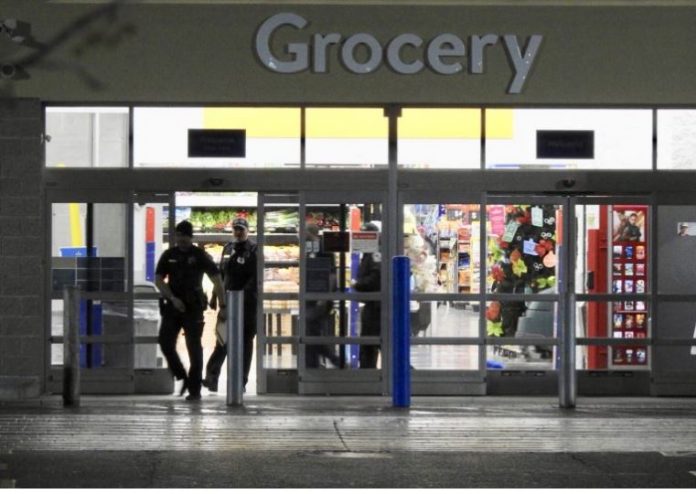 WEST JORDAN, Utah, Nov. 1, 2018 (Gephardt Daily) — A man is in custody after police say he stabbed a Walmart worker, then led police on a chase before having his tires spiked and being taken into custody.
The incident began at about 2:30 a.m. at the Walmart at 7671 S. West.
"We got a call for a stabbing at the Walmart," Sgt. James Kangas, West Jordan Police, said at the scene. "There was an individual that received a puncture wound to left shoulder area. We responded there and were tidying up the crime scene when an individual fled from one of my officers."
Kangas said a Walmart employee pointed out the man, who was wearing a store uniform — a shirt or smock — but "he didnt work there, nobody recognized him, so when she confronted him, he took off."
West Jordan officers pursued the man's truck, but speeds became unsafe to continue, Kangas said. But since dispatchers had patched WJPD into the regional channel, Unified police were able to pick up the chase as the man seemed to loop back toward West Jordan. A UPD officer laid spike strips.
"I believe that disabled one of his front tires, so did decrease his speed," Kangas said.
UPD officials made a felony stop and took the suspect into custody just a few miles from the West Jordan Walmart, Kangas said.
The suspect's name has not yet been released.
Officer's searching the man's truck did find retail merchandise and a weapon that is believed to be that used in the the stabbing, Kangas said. The person who was stabbed is expected to recover.