WEST JORDAN, Utah, Nov. 2, 2016 (Gephardt Daily) — Investigators are reviewing evidence the case an officer-involved shooting that occurred Wednesday in West Jordan.
The suspect, Jesse Jay Taylor, 40, was given CPR by emergency personnel at the scene before being rushed to an area hospital where he died at about 4:30 p.m.
The chase began at about 1:45 p.m. Wednesday after police say Taylor robbed the Mountain America Credit Union, at 6761 S. Redwood Road. He then fled in a gray or silver Chevy pickup, according to Sgt. Dan Roberts of the West Jordan Police Department.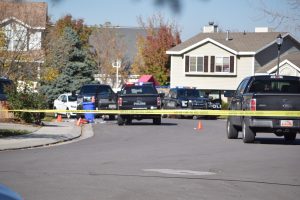 "Officers responded, and were able to locate the suspect," Roberts said shortly after the incident. "A brief chase ensued, and at the termination of that pursuit, there was a shootout. The suspect has been shot, and is now in the hospital in what we believe is critical condition."
Roberts said the suspect appeared to have worked alone. Roberts said he believed the suspect had a gun, which he reportedly used during the credit union robbery.
Roberts said he did not know whether shots were exchanged before the suspect was hit, or who fired the shots.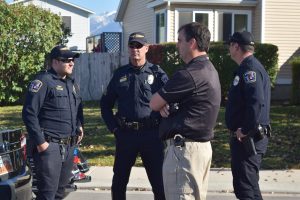 The incident will be investigated by a coalition of other agencies, in keeping with protocol, Roberts said.
"Any time an officer has to use force, it's a serious situation," he said. "Certainly when an officer uses deadly force, it's very difficult for the officer. It's not something they look forward to. It's something that is tragic for everyone involved."
West Jordan officer involved shooting