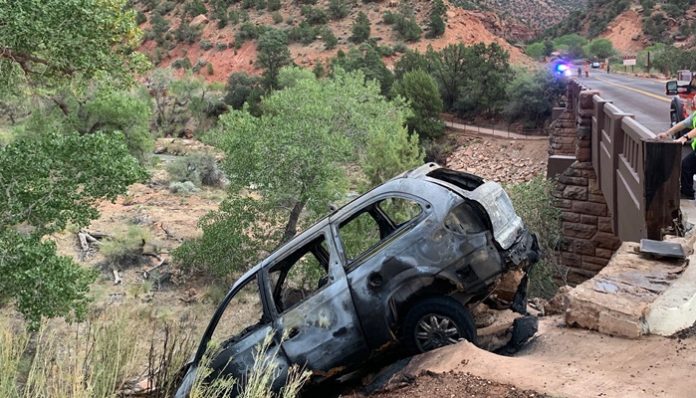 ST. GEORGE, Utah, Aug. 31, 2021 (Gephardt Daily) — A man is in custody after St. George police say he exited a burning building of The Church of Jesus Christ of Latter-day Saints and fled the scene.
The man, whose identity reportedly had not been confirmed at the time the SGPD statement was issued Tuesday morning, was found by police who driving around the area after they were called at 4 a.m. Monday to the scene of a fire at a LDS Church building at 1295 S. 3000 East.
At the second location, 1762 S. River Road, officers saw a silver minivan parked outside, and smoke coming out of the building, the police statement says.
"A male exited the church and left the area in the minivan at a high rate of speed," it says. "Officers attempted to stop the vehicle. The driver fled from officers, and SGPD officers initiated a pursuit."
Officers followed the minivan northbound on Interstate 15, and contacted neighboring agencies for assistance. The pursuit continued through Hurricane and toward Springdale.
"The suspect's vehicle was spiked twice before reaching Zion National Park," the police statement says. "After crossing into Zion National Park, the vehicle crashed and started on fire. A single adult male occupant excited the vehicle and was taken into custody."
"The suspect was taken into custody and transported to St. George Regional Hospital with minor injuries."
Officials are investigating fires at three LDS Church buildings, including one at River Road and Rustic Drive, the statement says.
SGPD investigators would like to hear from anyone who knows of vandalization these or additional locations, the statement says. They ask anyone with information to call 435-627-4338.
The church on River Road had a  fire suppression system, and it sustained some fire and water damage, the St. George Police statement says. The Church at River Road and Rustic Drive sustained landscape damage.
The church at 1295. S. 3000 East, had no fire suppression system, and "sustained significant fire damage."
The SGPD thanked other agencies who assisted in the operation, including police departments in Washington City, Hurricane, Santa Clara/Ivins, Springdale and Dixie State University, along with the Washington County Sheriff's Office and Gold Cross Ambulance.
The statement asked the public to avoid the area of the churches during the initial investigation, and urged anyone who sees suspicious activity of any kind to contact police.
The LDS Church released the following statement:
"We are saddened by the intentional damage that has occurred at three of our meetinghouses in St. George. Our Church buildings are places of worship and community gathering where all are welcome. We're fully cooperating with authorities as they conduct their investigation and inquiries about these incidents should be directed to them."