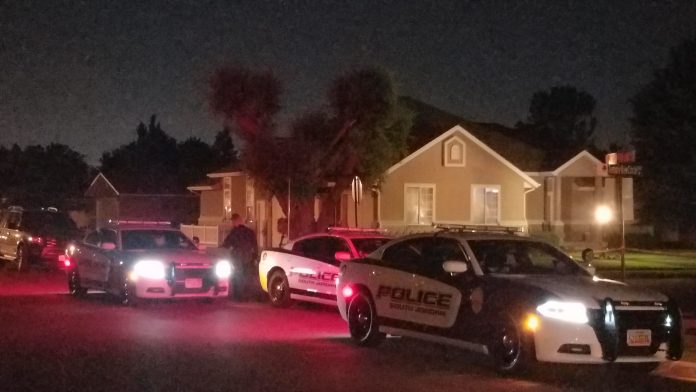 SOUTH JORDAN, Utah, June 3, 2016 (Gephardt Daily) — Three days after the body of a young mother was found in the basement of her Magna home, police believe they have her killer — who is now hospitalized, in serious condition, after an officer-involved shooting Thursday night.
Lt. Lex Bell, Unified Police Department, said that after a focused homicide investigation into the May 30 death of Natalia Casagrande — 24 and the mother of daughters age 1 and 5 — the evidence led homicide detectives to a primary suspect.
At about 10 p.m. Thursday, UPD officers and agents from VFAS (Violent Fugitive Apprehension Section) went to the 10254 S. Temple View Circle, where the suspect shares the home his parents own.
"During the course of that contact at the residence there was a confrontation, and the suspect was shot," Bell said, declining to share more details late Thursday night.
"Suffice it to say there was a confrontation and shots were fired," he said.
No law officers were hurt, and shooting officers from different agencies were put on routine leave pending an investigation of the incident.
The suspect was taken to an area hospital in critical condition, and the investigative timeline changed.
"I think there's going to be a lot more work tonight than they had planned to do just by nature of what has happened," Bell said Thursday night.
Unified Police Officers planned to hurry in the pre-dawn hours of Friday morning to round up others who might be involved in the murder before word could spread of the primary suspect's arrest.
One of the people officers are hoping to arrest is believed to have been waiting outside Casagrande's house, in a white car, while the main suspect was in the house.
"They're still looking for that individual and the vehicle, and there may be even more people than that that are involved," Bell said, adding that the suspect hospitalized in custody was "… the person they suspect actually murdered Natalia."
The name of the primary suspect was not released, but on Friday morning at 10 a.m. UPD tweeted that the suspect, who is 26, is out of surgery and now listed as serious but stable condition.
Bell said the murder investigation has been unlike the UPD's usual cases.
"This is one of those that are very complicated and not as straightforward as most are," he said. And as for Friday morning's investigative activities, "We do want to have the element of surprise on our side."