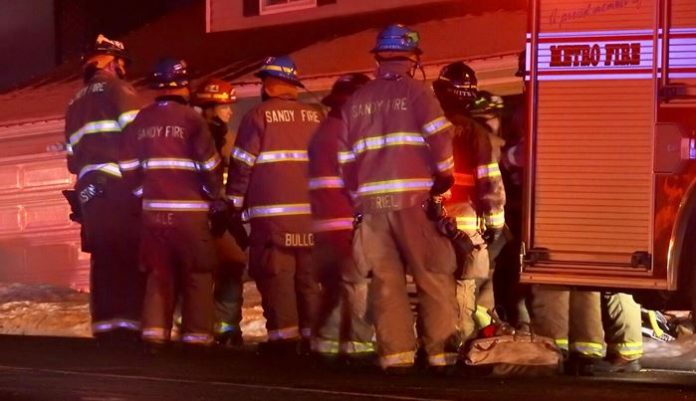 SANDY, Utah, Jan. 10, 2019 (Gephardt Daily) — A man and child suffered smoke inhalation and a pet died in a Sandy fire that caused an estimated $200,000 in damages.
A Christmas tree that caught fire is believed to have started the fire, but the investigation is ongoing, Battalion Chief Eric Larson, Sandy Fire Department, told Gephardt Daily at the scene, in the area of 1300 East and Hidden Valley Drive.
"We got called at 12:22 this morning (Thursday) on a house fire," Larson said. "On arrival, we did find a house that had fire that was inside the living room. Crews made a quick attack and were able to put the fire out the first couple minutes after their arrival.
"There was the homeowner and kid in the house. They were able to escape. They did have a little bit of smoke inhalation, however they're not going to be transported to the hospital."
Two pets, cats, died as a result of the fire, Larson said.
"We are suspecting a Christmas tree that caught on fire, but we are still investigating," ge said.
Besides the Sandy Fire Department, a battalion chief from Unified Fire Authority and a ladder truck from South Jordan Fire Department responded, Larson said.
Residents were displaced by the fire, which did an estimated $200,000 in damage, he said. The Red Cross was called to assist those displaced.