SALT LAKE CITY, Utah, June 4, 2016 (Gephardt Daily) — Salt Lake City police are investigating a late night brawl involving swords, knives, axes, ball bats, and a pair of pit bulls, which sent five people to the hospital Saturday.
Investigators on scene told Gephardt Daily the fight broke out at 10:40 p.m. at 646 S. 500 East.
When officers arrived, they found several people who had been stabbed and bludgeoned by a neighbor they had argued with earlier in the night. One of the injured had been bitten in the leg and groin by a couple of pit bulls.
Salt Lake City Police Lt. Craig Gleason said 42-year-old Jason Panter often fought with his neighbors, but the altercations were always verbal.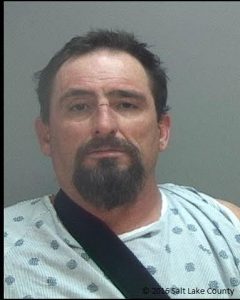 On Saturday night, that all changed, when police say Panter went berserk, telling neighbors across the hall he would "leave them in a pool of blood" after they had exchanged words earlier in the day.
A short while later, police say Panter kept his word, confronting tenants in the apartment hallway, while shouting obscenities and brandishing knives.
At first, neighbors were able disarm Panter, only to have him return with a sword, an axe, knives and two pit bull dogs.
Resident Donovan Malias told Gephardt Daily the dogs initially attacked him, biting his legs, and between his thighs. He said he swung a baseball bat and was able to ward off the animals, which enraged Panter even more.
At one point, Panter hit one of the neighbors in the head with an axe. Others were stabbed.
Victims were still trying to defend themselves when police made their way into the residence and managed to subdue Panter, who was taken into custody.
Salt Lake City Police Lt. Craig Gleason said the scene was bloody and "in total chaos" when officers arrived.
"This scene was so chaotic. People had armed themselves for protection and we weren't sure who was who. You had people with bats and knives and axes, so everybody got grabbed and detained."
Five of the wounded, including Panter, were taken to the hospital in fair to serious condition. Police say none of their injuries appeared to be life threatening.
Lt. Gleason said police have yet determine exactly what started the fight, and their investigation is ongoing.
Panter was treated at a local hospital then booked into the Salt Lake County Jail on five felony counts of aggravated assault resulting in injury and one felony count of aggravated burglary.