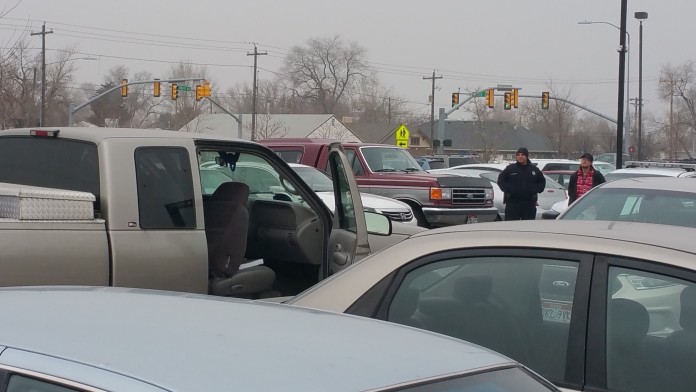 TAYLORSVILLE, Utah, Feb. 11, 2016 (Gephardt Daily) — There were a few tense moments at Taylorsville High School after a stolen vehicle was located in the school's parking lot.
According to Taylorsville High principal Garett Muse, the school was informed of police activity happening in the parking lot, and asked to monitor students and keep them away from the situation.
"We do not want to interfere with community policing, but because we are at one of the busiest intersections here at 5400 S. Redwood Road, there can be issues that happen at times that come into our parking lots," Muse said.
"We want to make sure we are keeping our kids out of the way. Kids want to see. We need to keep them out of the middle, especially if there is criminal activity involved."
According to Muse, the incident stated when the victim noticed their stolen vehicle in the parking lot.
"Someone called the police to report they thought they saw their car in the parking lot," Muse said.  "Everyone takes this very serious. We did not know who parked it here and if they ran into our school, but it was handled and dealt with quickly and did not affect the school at all. Taylorsville is really fast. Unified really takes care of us, and it all went smooth."
According to Unified Police Det. Ken Hansen, the GMC Sierra was stolen this morning from the same vicinity, and the owner happened to be driving by and saw it parked at the high school.
"It appears that the suspects, a male and female, were out by the soccer field looking for something when the man got back in the truck," Hansen said. "The female was just catching up to the truck when officers arrived and took them into custody."
Hansen said the investigation is ongoing and it is not certain what charges will be filed. The identities of the suspects have not been released.