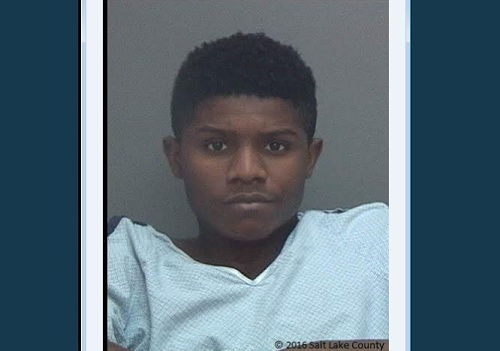 SALT LAKE CITY, Utah, March 16, 2016 (Gephardt Daily) — Gerald Grant has been charged with three counts each of criminal homicide and aggravated murder in the Feb. 18 shootings of two young adult brothers and a juvenile male found inside a Ford Explorer stopped in the middle of a residential road.
Killed were Angel Lopez Salinas, 20; his brother Lauro Paul Lopez Salinas, 19: and Armando Cuenca-Curiel, 17, who died at the scene. The brothers underwent surgery at the Intermountain Medical Center, and died on Feb. 20 from injuries sustained at the crime scene.
Witnesses at the scene, near 300 E. Park Creek Lane, South Salt Lake, told police that after the shootings, a black man exited the vehicle, made a cell phone call, and was picked up by a white passenger car.
At about 10:35 p.m. the same day, a black male identified as Gerald R. Grant, 19, of Florida, arrived at the University of Utah Hospital with a gunshot wound to his leg.
Police were called, and Grant's driver, who was not identified in court papers, said she had picked up Grant and another man, Mahad Omar, in her vehicle, and driven Grant to the hospital.
Omar later told police Grant had asked him about getting some marijuana, and Omar said he had a contact who sold the drug. Another man, Isaac Gbaway agreed to drive Omar and Grant to the arranged purchase site, where Grant reportedly got into the Ford Explorer, which drove away from Gbaway's white Hyndai Sonata.
According to the police report, Omar said he and Gbaway lost sight of the Ford Explorer, but picked up Grant when he called for a ride. Omar told police Grant had said one of the men shot him in the leg, and Grant then shot all three men in the SUV.
Grant also faces a fourth charge of obstructing justice. A trial date in the case has not yet been set in the triple homicide case.