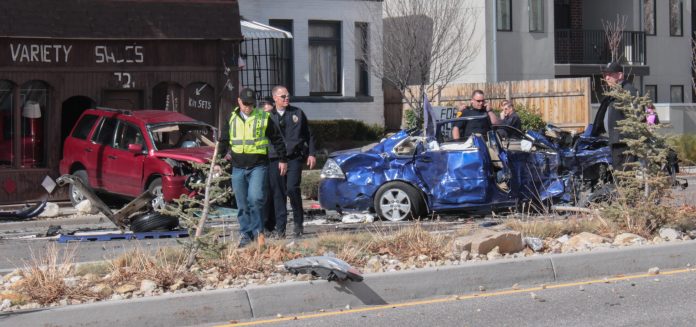 SALT LAKE CITY, Utah, Aug. 10, 2017 (Gephardt Daily) — Charges were filed Thursday against an 18-year-old driver who crashed into another car last February, killing his two passengers, who, like him, were West High School students.
A warrant has been issued for the arrest of Abraham Miranda, 18, who has been charged with two counts of manslaughter and one count of reckless endangerment in the accident, which happened Feb. 17 of this year.
Investigators found that Miranda's blue Chevy Impala was traveling north at 95.8 mph in a 40 mph zone when it entered the intersection of 300 West and 700 North.
The Impala crashed into a red Honda Pilot driven by 32-year-old Amy Wilson, who was westbound on 700 North. Miranda's two passengers, Dylan Hernandez, 18,  and Vidal Pachecho, 17, died at the scene. Miranda was hospitalized with critical injuries.
Wilson survived, but suffered traumatic brain injury, internal bleeding requiring the removal of her kidney and spleen, and 15 broken bones, according to court documents. She required multiple surgeries.
Wilson was 35 weeks pregnant, and her daughter was delivered by emergency C-section. The medical staff advised Wilson her baby would have brain damage and trouble using her left side, according to charging documents.
According to charging documents, Miranda told investigators he was "going fast," about 60 mph, he estimated, because he was "in a hurry to get to the arcade."
One witness said that before the collision, Miranda appeared to have been drag racing with a silver Buick SUV, and had shaken his hand at the SUV driver, the court documents said.