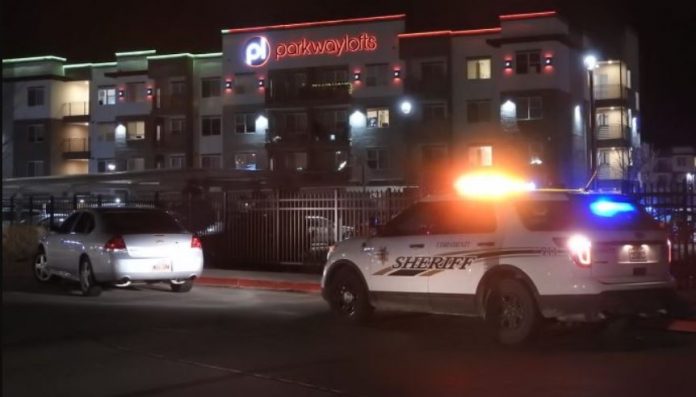 OREM, Utah, Feb. 28, 2019 (Gephardt Daily) — Orem police are looking for a known suspect after a man in Orem was shot and critically injured Thursday night.
Lt. Trent Colledge, Orem Police Department, said officers are searching for 19-year-old Elbert Paule in connection to the shooting of a man he knew. The victim's name has not been released.
The shooting happened at about 8 p.m. in front of the Parkway Lofts, at 1225 W. 1000 South, in Orem, which is close to Utah Valley University, but west of Interstate 15. Many of the building's residents are UVU students, Colledge said.
"Officers arrived on scene and found one adult male victim with an obvious gunshot wound," Colledge said at the scene. "Medical treatment was initiated, and he (the victim) was transported in critical condition to the hospital. The suspect fled from the area. His location is unknown, however, the weapons used in the shooting we've recovered. We don't know if he has other possible weapons."
Paule was last seen wearing a long-sleeved, yellow sweater, Colledge said. UVU put out a student alert, asking recipients to shelter in place. Colledge added that those who live in the area but are not at home may want to delay their return.
Colledge said anyone spotting the suspect should use caution and call 911 immediately. Officers from the Orem and Provo police departments and multiple other agencies are actively searching for Paule, he said.
"We are searching buildings, searching FrontRunner," Colledge said just before 10 p.m. "It is possible he was able to jump on FrontRunner."
The suspect is believed to be a friend or at least an acquaintance of the shooting victim.
"They are known to each other," Colledge said, adding that the suspect was also a resident of the immediate area.
"Remain cautious and stay inside if at all possible," Colledge advised.