SALT LAKE CITY, Utah, Sept. 3, 2017 (Gephardt Daily) — A male teenager has been hospitalized after being shot by police following an early Sunday morning chase on I-15.
Salt Lake City Police Sgt. Brandon Shearer told Gephardt Daily the juvenile was being pursued by Cottonwood Heights officers around 3:10 a.m. when he lost control of the Ford Mustang he was driving and crashed near the 1300 South on-ramp.
The teen jumped from the car and led police on a foot chase, running down the side of the highway to the surface street below.
Sgt. Shearer said it was during the foot pursuit that at least one Cottonwood Heights officer opened fire on the juvenile.
The teen was rushed by ambulance to a nearby hospital in "stable" condition. The extent of his wounds was unknown.
The on and off ramps for 1300 South to and from I-15 were closed, along with 1300 South. All lanes were expected to be reopened by mid-morning.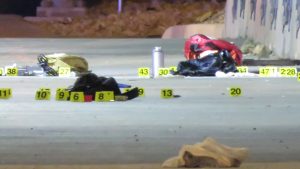 It had yet to be determined why the teen was being chased by Cottonwood Heights police or what prompted the shooting.
The Salt Lake City Police Department is now spearheading the investigation.
Gephardt Daily will update the story as more information becomes available.
Officer-Involved Shooting