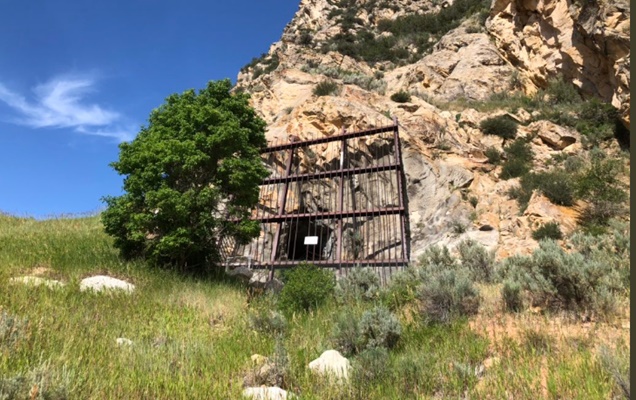 UTAH COUNTY, Utah, July 24, 2019 (Gephardt Daily) — In light of a recent accidental fall that sent an 18-year-old to the hospital in critical condition, Utah County Sheriff's officials want to put out the word as to why trespassing is never a good idea.
Preston Harward, of Salem, was part of a group of five who entered the overflow tunnel at Thistle in Spanish Fork Canyon late on the night of July 18, officials said.
Thistle, a small railroad town, was wiped out in 1983 by a massive mudslide and subsequent flood. The overflow tunnel is blocked at one end and has been dry and dark for years.
The area of the tunnel is fenced off and fairly heavy with signage warning "No Trespassing" and "Danger."
Initially, Harward was reported to have fallen roughly 65-70 feet after he entered the  tunnel and ran through it, not realizing that it ended in mid-air.
He actually fell 150 feet, officials said later.
Search and rescue teams and a helicopter were called to the scene in the early hours of Friday morning, July 19. The teen was located and transported to a hospital.
The young man suffered a fractured skull, broken ribs, a collapsed lung and lacerations, UCSO Sgt. Spencer Cannon told Gephardt Daily a few hours after the incident.
"A guy fell from the same spot in about 2012, and he died," Cannon said. "We haven't had an update today on the kid's condition, but that's usually good news."
Now, a week later, Harward is steadily recovering, and doctors have told him he's lucky to be alive.
On Wednesday, Cannon tweeted about the incident and included photos of what Harward had to get past in order to make his way into the tunnel.
In an effort to get the point across that illegally exploring remote areas that are blocked and fenced off is a dangerous activity, the tweet ended:
"Glad he is recovering, but signs, fence, & other enclosures designed to exclude intruders are there for good reasons."