SALT LAKE CITY, Utah, June 14, 2016 (Gephardt Daily) — There was an outpouring of emotion Monday in downtown Salt Lake City as scores of Utahns braved threatening skies and afternoon showers to remember the 49 people killed and 53 injured early Sunday morning at a mass shooting at a gay bar in Orlando.
Jackie Biskupski, the first lesbian mayor in Salt Lake City history, led the solemn event, pledging to continue working to keep the city's residents safe.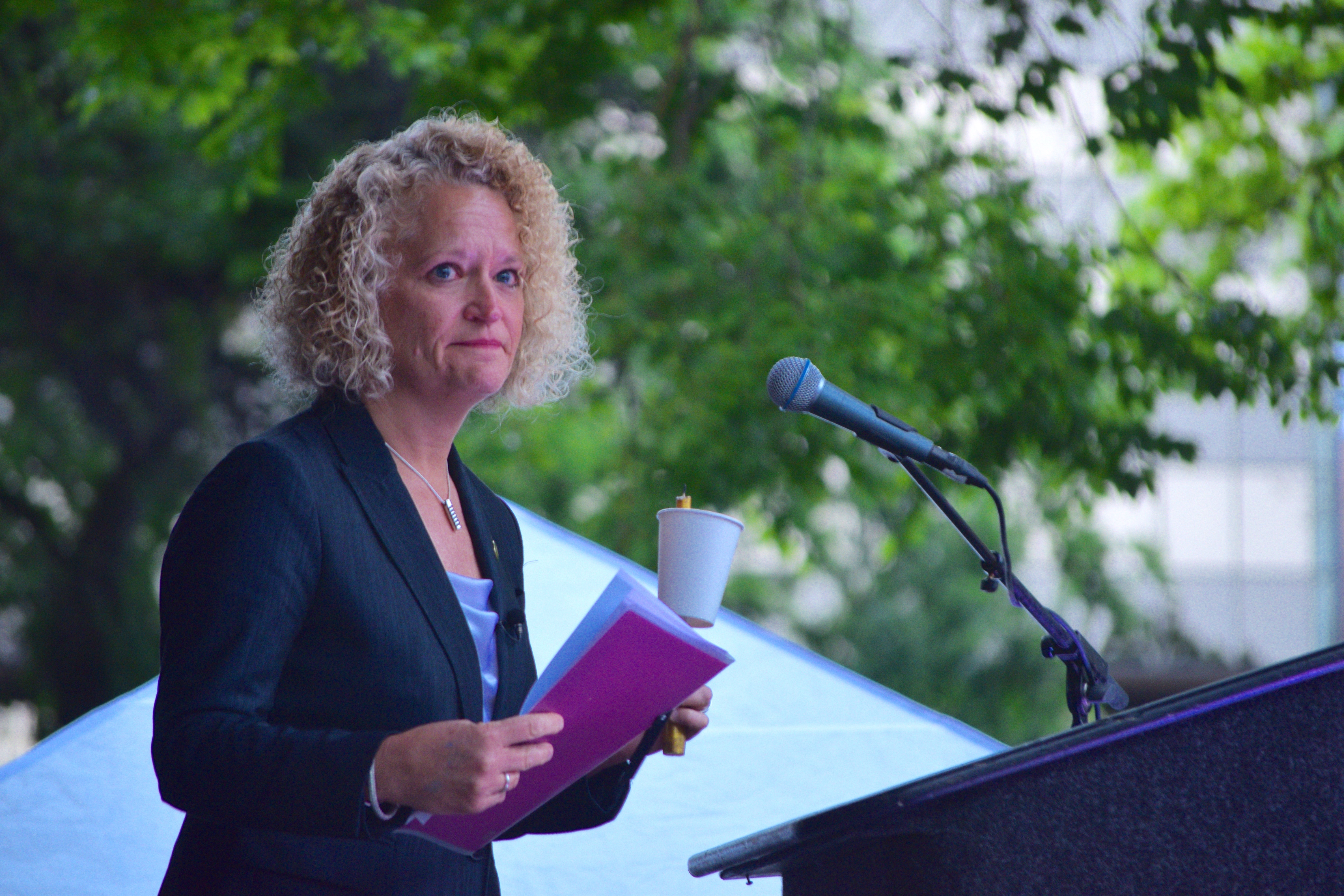 "Many in the LGTQ community are living in fear," Biskupski said.
"I can guarantee you this lesbian is going to keep working to affect change in this city of ours. And no one will ever scare me away."
Many in the crowd, like Salt Lake City resident Marcelo Gomes, came to sing, find comfort and seek solidarity.
Gomes also came to celebrate the life of a friend lost in the Orlando attack.
In a Facebook posting earlier the day Gomes said he planned to honor Eddie Sotomayor by handing out party-favor top hats.
Sotomayor was known for wearing top hats to festive events, Gomes said in the post. In fact, Sotomayor's nickname was "Top Hat Eddie."
Sotomayor died after being shot in the back while saving his boyfriend from the carnage.
Gomes went to a local party store and bought 34 plastic top hats, one for every year his friend had lived.
The store had exactly 34 available, Gomes said.
His plan was to hand them out at the vigil and to tell people about his late friend.
Others in attendance also spoke of their friends and loved ones, and the many years they suffered waiting for a social acceptance they say is all too slow in coming.
Utah Lt. Governor Spencer Cox also addressed the crowd, apologizing for his own past prejudicial behavior. He said the shooting in Orlando was a tipping point in his own perceptions about LGBTQ equality.
"I truly believe this is the defining issue of our generation," Cox said.
"Can we be brave? Can we be strong? Can we be kind, and, perhaps, even happy, in the face of atrocious acts of hate and terrorism?"
Noor Ul-Hasa, a devout Muslim and Salt Lake City community activist, decried those she says have hijacked the Islamic religion.
"I always come to the question of what it is that's making people do what they do," Ul-Hasa said.
"I will tell you this is the month of Ramadan for Muslims. In the month of Ramadan, we are to be better people. We are to be kind to our neighbors. It does not say just to Muslims."
LGBTQ community activist Leslie Shaw echoed Ul-Hasa's sentiments. In an a speech that brought many in the crowd to tears, Shaw quoted part of a sonnet written by American actor, writer, rapper, composer Lin-Manuel Miranda:
When senseless acts of tragedy remind us
That nothing here is promised, not one day.
This show is proof that history remembers
We lived through tines when hate and fear proved stronger;
We rise and fall from dying embers, remembrances that hope and love last longer
And love is love is love is love is love is love is love is love cannot be killed or swept aside.
To view images from Monday's Vigil for Orlando, click on the photo gallery below.
Salt Lake City Vigil For Orlando