SALT LAKE CITY, Utah, Jan. 29, 2023 (Gephardt Daily) — Pioneer Theatre Company's world premiere of "A Distinct Society" is set in the Haskell Free Library and Opera House, a largely forgotten historic library that straddles the border of the United States (Vermont) and Canada (Quebec). There's even a faded floor line marking that border for any guests who might care to show up — at least in the stage version of the real-world library.
And that national border, along with characters' political and personal borders, fuels, a rich and beautifully told story that can both uplift audience members and break their hearts.
The 95-minute play is by playwright Kareem Fahmy, who last visited Pioneer Theatre to direct a subtle and touching production of "Fireflies" last April.
Fahmy set "A Distinct Society" a few years back, during the the so-called Muslim Ban, which began when then President Donald Trump signed an executive order to ban travelers from six predominantly Muslim countries.
In Fahmy's play, an Iranian father (Abdullah Khalil as Peyman) thinks he's found a way to see his daughter (Vaneh Assoudarian as Shirin) if they meet at the border-straddling library. Both are in ill health and struggling, and the need to meet feels urgent.
Khalil is perfect as the gentle, kindly Peyman, a loving father who sees his family as his true home. Assourdarian is multi-faceted as Vaneh, admitted to the U.S. on a student visa, who shows convincing anger, aggression, fear, loneliness, kindness and love.
Onstage nearly throughout is librarian Manon (played by Carrie Paff), who loves opera and feels protective of her library and all who enter, from either side of the border. Paff melts into the role, and makes you forget she is acting.
Born and raised in Quebec, the charming and awkward Manon finds herself hesitating at the flirtatious interest of American Border Guard Bruce (Corey Jones), rough-around-the-edges Detroit native who is interested in his career upholding the law and possibly in learning some French from the elegant librarian.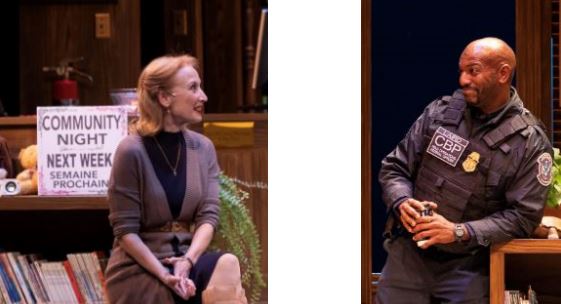 Rounding out the cast is 15-year-old Declan (actor Emmet Smith), born in Ireland (minus the accent), who moved to Quebec with his parents before his father left, and who is mocked by his Québécois classmates. Smith is convincing as the emotional, impulsive youth, who, like all the characters in the play, really seeks a human connection.
Every character comes with their own personal "baggage" and a set of lines they will or won't cross in pursuit of their desires.
Fahmy's script illustrates how much personal lines and political borders can cost five perfectly nice people. Each new character revelation adds layers of depth to the story and impact to the ending.
"A Distinct Society" is both gentle and powerful. Anyone who enjoys subtle and meaningful theater, and a mix of drama and joy, needs to see this show. Director Giovanna Sardelli and designer Jo Winiarski made all the right choices.
"A Distinct Society" plays Mondays through Saturdays at Pioneer Theatre, through Feb. 11. Shows are at 7 p.m. Monday through Thursday, 7:30 p.m. Friday, and 2 p.m. and 7:30 p.m. Saturday. An ASL-interpreted show will be presented at 2 p.m. Feb. 11. The show contains some adult language.
For theater and ticket information, click here.