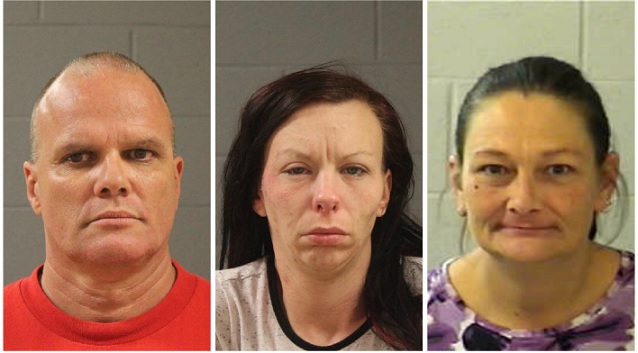 SANTA CLARA, Utah, July 11, 2016 (Gephardt Daily) — A third suspect believed to be involved in the June disappearance of a Santa Clara man has been arrested, but there is still no sign of the 30-year-old single father.
Tammy Renee Freeman, 54, of Washington City, was arrested over the weekend and booked into the Purgatory Correctional Facility in Washington County on charges of first-degree felony aggravated kidnapping, first-degree felony aggravated burglary and second-degree felony theft of a motor vehicle.
Freeman is the latest suspect to be arrested in the case involving David Heisler, who went missing June 27 under suspicious circumstances from his home in Santa Clara.
Kelley Marie Perry, 31, and Francis Lee McCard, 55, were arrested just a few days prior to Freeman, and are both currently incarcerated in Washington County on the same charges after they admitted to police they had some involvement in the disappearance of Heisler.
Perry was apparently angry at Heisler after losing custody of the couple's 6-year-old daughter to him on June 13.
In a probable cause statement, Freeman allegedly admitted to police during an interview that she drove Perry and McCard to Heisler's house, where both Perry and McCard assaulted him.
Perry and McCard admitted to detectives that after the encounter inside the home, they forced Heisler against his will into his own car, and that McCard allegedly dropped Perry off somewhere along the way to Mt. Trumball, in Arizona.
Heisler's missing vehicle was found July 1 in Beaver Dam, Arizona, the same area where Freeman told detectives she had picked up McCard after picking up Perry.
Police said they discovered blood on the outside of the car and a shell casing inside.
During a search on July 9 of Perry's home, at 754 E. Peach Circle, Washington City, a 9mm handgun was found under her bed with a bullet in the cha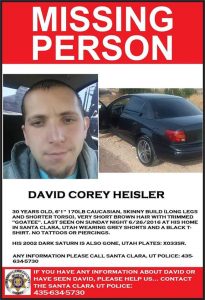 mber, a full magazine, methamphetamine and drug paraphernalia.
A search was conducted last Thursday and Friday in the area where McCard said he left Heisler alive, but officers found no sign of the missing man.
Heisler's parents, Kenneth and Debbie, filed for custody of their granddaughter on June 30 and a Gofundme has been set up to help the family.
The Washington County Sheriff's Office and Santa Clara Ivins Police Department are asking anyone with information on Heisler's whereabouts or the investigation into his disappearance to contact them at 435-634-5730.