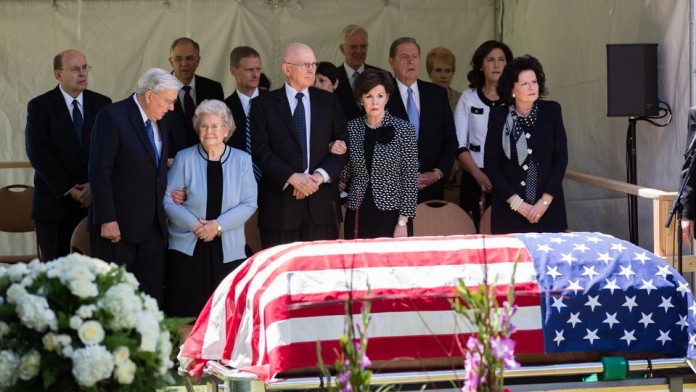 Thousands Attend Beloved LDS Leader's Funeral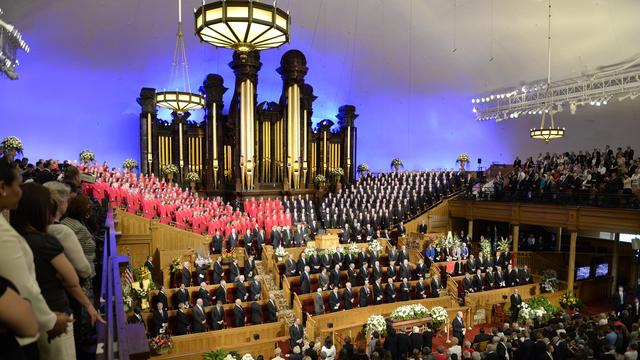 SALT LAKE CITY, UTAH – June 7, 2015 (Gephardt Daily) On Friday Thousands of people gathered on Temple Square to honor and remember Elder L. Tom Perry of the Quorum of the Twelve Apostles of The Church of Jesus Christ of Latter-day Saints.
Elder Perry died on May 30 at the age of 92 shortly after being diagnosed with thyroid cancer.
Nealry 2,500 people filled the historic Tabernacle to capacity and many others attended the services in the overflow seating of the nearby Assembly Hall.Thousands more watched the broadcast live on LDS.org, and several other live streams including Gephardt Daily through the Church satellite system.
The service, held under the direction of the First Presidency, was attended by general authorities and auxiliary leaders of the Church, as well as community and civic leaders and members of Elder Perry's family.
"The prayers and the expressions of comfort and gratitude from the members of the Church have been overwhelming," said Lee Perry, Elder Perry's son and the first speaker. Acknowledging the presence of religious leaders from other faiths, he said he was "quite certain that Elder Perry is looking down on all of us right now, and he is very pleased to see us gathered together."
Lee Perry added, "He embraced a life that was always full speed ahead. He immersed himself so completely in everything he did that he forgot until very late in life that it was necessary to slow down, and so the end came much sooner than expected. Still, he lived his life to its fullest — a life of devotion to God, family and country."
Elder M. Russell Ballard and Elder Dallin H. Oaks of the Quorum of the Twelve Apostles also spoke at the funeral.
"Elder Perry, by his nature, is one who always expected to see things move forward," explained Elder Ballard. "He seemed to have very little patience if time was not productive. He always taught, encouraged and inspired all of the general authorities that we could do more, we could do better and we could move faster in blessing the lives of every member of the Church."
Elder Ballard and Elder Oaks visited Elder Perry at his home three days before his passing. "We had a tender visit, and as always Elder Perry spoke of his love for the members of the Church, and his great anxiety and concern for their spiritual well-being," Elder Ballard said.
"L. Tom Perry was a big brother to all of his juniors in the Quorum of the Twelve," said Elder Oaks, who also reflected on that final meeting. He said Elder Perry expressed concern about declining morals, suffering populations and a loss of "our good strong Christian beliefs." But Elder Oaks said Elder Perry also expressed his faith in the strong youth of the Church.
The concluding remarks were offered by President Thomas S. Monson, who served with Elder Perry for many years.
"We shared much over the years — heartache and happiness, sorrow and laughter and, above all, a love for the Lord and His gospel," President Monson said. "All who heard his voice and those who read his words could readily see that here was a fearless defender and testifier of truth, intelligent in thought, radiant and warm in personality, succinct and powerful in expression, unwavering and unflinching in commitment and belief. He could teach, persuade, warn, explain and encourage."
President Monson continued, "I declare to you, my brothers and sisters, that there was no chink in L. Tom Perry's armor; there was no guile in his soul; there was no flaw in his character. He loved the Lord with all his heart and soul and served Him with all his might to the very end of his mortal life."
The Mormon Tabernacle Choir provided the music, singing, "Still, Still with Thee," "O My Father" and "O Divine Redeemer," and "The Lord Bless You and Keep You." Elder Jeffrey R. Holland of the Quorum of the Twelve Apostles gave the closing prayer.
Elder Perry was laid to rest in the Salt Lake City Cemetery. Graveside services were conducted by fellow apostle Elder Russell M. Nelson.
Part of the services included a military honor guard that reverently removed the American flag from Elder Perry's casket, folded and presented it to Sister Perry. "Taps" were played and a 21-gun salute was fired for his military service as a Marine in World War II. He is survived by his wife, Barbara, two of his children and many grandchildren and great-grandchildren.
Elder Perry was born in Logan, Utah, on August 5, 1922, to Leslie Thomas Perry and Elsie Nora Sonne. He married Virginia Clair Lee on July 18, 1947. She died in 1974. They are the parents of three children. Elder Perry married Barbara Taylor Dayton in 1976. He is preceded in death by his first wife, a daughter and a granddaughter.
Elder Perry served as an apostle, the highest priesthood office in the Church, for more than 40 years. He was ordained an apostle in April 1974, after serving as an assistant to the Twelve since 1972. Latter-day Saint apostles are called to be special witnesses of Jesus Christ just as apostles were called in New Testament times.
Over the past week, condolences have poured in from all over the world on the Church's social media channels, including Elder Perry's Facebook page.