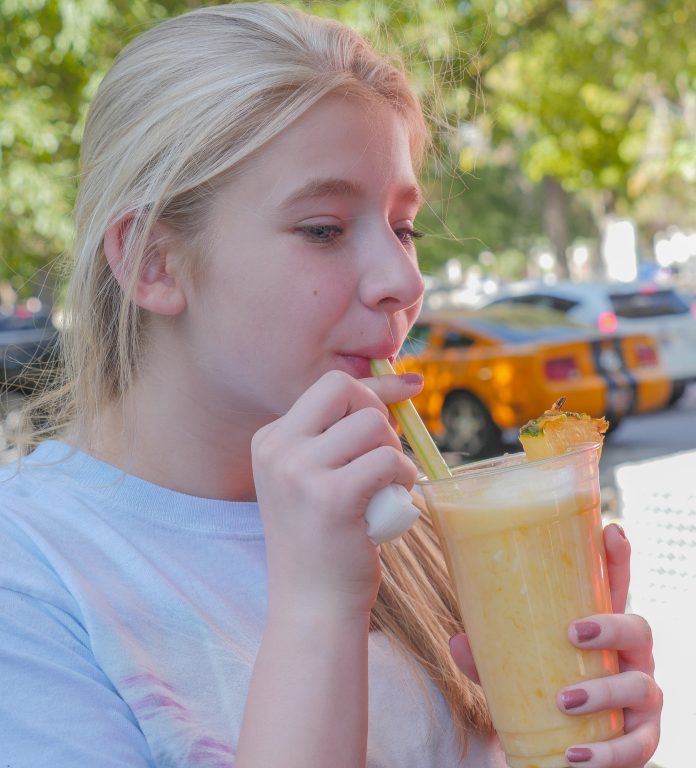 SALT LAKE CITY, Utah, June 11, 2017 (Gephardt Daily) — The third annual Food Truck Face Off on Saturday drew thousands of people to Liberty Park, where they enjoyed the summer-like day and a lot — you might say truckloads — of great food.
The event was organized to benefit the Fourth Street Clinic; Salt Lake Valley Habitat for Humanity and ReStore; Utah Community Action; Volunteers of America, Utah; and YWCA Utah. These local nonprofits work to provide services for, and improve the lives of, countless people in the Salt Lake area.
Amberlie Phillips, chief development officer for YWCA Utah, told Gephardt Daily that last year's event, also held in Liberty Park, was more than triple the size of the first year's turnout.
"So this year, we're having longer hours, more food trucks — hoping for a huge response from the community," Phillips said. "This year there are 30 food trucks. It's the largest food truck rally in Utah. We planned for a crowd."
She said about 10,000 people attended last year's Face Off, and organizers planned for 15,000 to 20,000 this year.
"It's a true collaboration between the nonprofits and the Food Truck League," Phillips said. "Five nonprofits who all work in the area of homelessness, low-income families and youth, dealing with really tough issues in our community."
The proceeds from the event are evenly divided, and there's a bit of a good-natured competition to liven things up, Phillips said. The nonprofit that sells the most tickets gets a small cash prize — a few hundred dollars — "and the food truck that collects the most tickets is the Face Off champion and gets bragging rights and a plaque."
Phillips said last year's gross proceeds totaled more than $110,000, and organizers were expecting gross proceeds to reach about $200,000 this year.
The tickets are redeemable for food at the food trucks. Phillips said most food items cost one to four tickets.
"The nonprofits reimburse the small businesses with a certain percentage of the proceeds, and we keep a certain percentage," she said.
Phillips said nonprofits often are limited on resources and feel they are struggling to get their voices heard. "With the help of the Food Truck League and our other nonprofit partners, we feel our voice is amplified, and it's a great opportunity to educate the community a little bit more and help the small businesses be seen."
Of course, there's always room for something new or different, and Kat Kuba would like to see some vegan dishes served up in the Food Truck Face Off.
"I'm vegan and lactose intolerant," Kuba said. "There aren't a lot of vegan options. They can take certain (ingredients) out, but it doesn't taste as good. And there are no low-carb options. Salt Lake is the third-largest vegan population, so I don't understand why they don't have more options."
Kuba said she likes the fact that the event is dog-friendly.
The Face Off was a success on many levels for 11-year-old Kiki Mayer, who was there with her mother and 9-year-old sister. Kiki liked being in the park, enjoyed eating there and said, "It makes me happy that this event is helping people."
Her mom, Kat Mayer, said the pulled pork she had was delicious, and she was impressed by the "really good crowd."
More importantly, she said, "It's a great way to support local charities."
Taylor Harris is the general manager and owner of The Food Truck League, which "brings great food and communities together because we create positive and fun events for all ages," according to its website.
"This is a fantastic event," Harris told Gephardt Daily. "It's a great opportunity for the local businesses, local small businesses to come together to help raise funds for these fantastic charities we work with. And not only do you get a great meal out of it — there's also a concert and a lot of fun things to do.
"I think the biggest thing is community," Harris said. "Sometimes we get disconnected from everybody in our day-to-day lives, and this is an opportunity for the charities to interface with the public and for them to learn more about the great work they do, and for these small businesses to have a chance to shine and show what they've created."