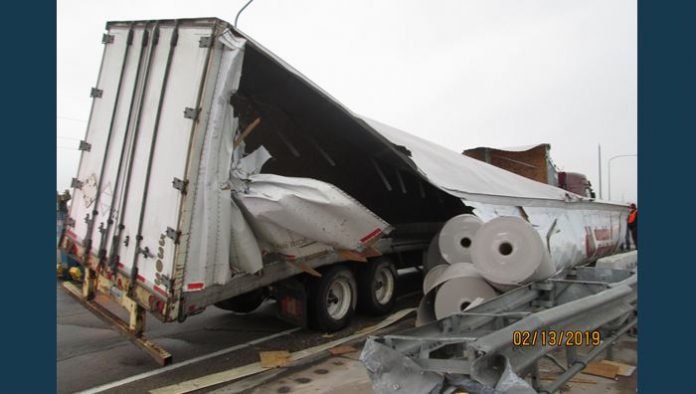 WEST VALLEY CITY, Utah, Feb. 13, 2019 (Gephardt Daily) — Traffic in the area of Bangerter Highway and State Route 201 was delayed for hours Wednesday after a semi carrying a load of large paper rolls took a turn too fast and tipped over.
The semi was exiting SR-201 eastbound, turning left onto northbound Bangerter Highway, at about 2:10 p.m. Wednesday when the accident happened.
"The semi driver was traveling too fast for the transition ramp and the truck and trailer rolled onto the concrete barrier separating northbound and southbound traffic," a Utah Highway Patrol account says.
"Fortunately, no one was injured in the crash and no other vehicles were involved. The northbound right lane was closed as troopers investigated the crash. At about 5:30 pm northbound traffic on Bangerter Highway was closed as the wreckers attempted to offload and upright the trailer.
"The trailer was loaded with large paper rolls, weighing up to 5,000 pounds and a forklift was brought in to move these to a new trailer."