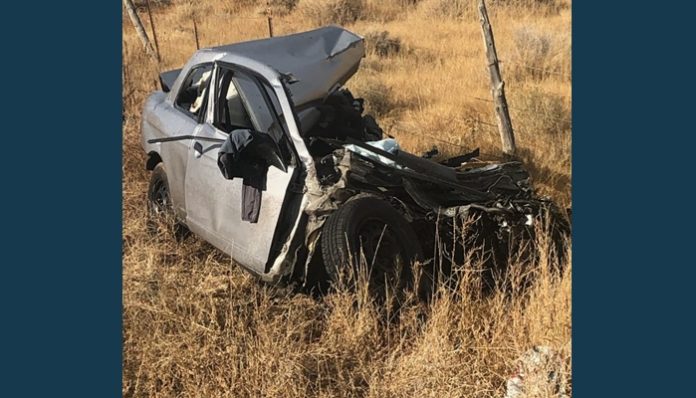 For an updated story, click here.
DUCHESNE COUNTY, Utah, Nov. 6, 2019 (Gephardt Daily) — Utah Highway Patrol troopers are on the scene of a fatal crash on U.S. Highway 40 in Duchesne County Wednesday morning.
"Troopers are just arriving on a reported fatal crash on U.S. Highway 40 near Myton," said a tweet from UHP.
A follow-up news release said a Honda Civic was traveling westbound on U.S. Highway 40 at mile marker 100 at approximately 7:25 a.m.
"A semi tractor pulling a tanker and pup was traveling eastbound at the same location," the news release said. "The Civic suddenly swerved in front of the tractor-trailer and a head-on collision was a result. The Civic was thrown off of the north shoulder of the roadway and the tractor drove off of the same shoulder."
The driver and only occupant of the Civic received fatal injuries. He was wearing his seat belt at the time of the crash; the seat belt broke and the driver was ejected from the car.
The driver of the tractor was not injured.
The exact cause of the crash is under investigation.
The deceased has not been identified pending notification of family.
Myton is approximately 10 miles southwest of Roosevelt.
Gephardt Daily will have more on this developing story as information is made available.