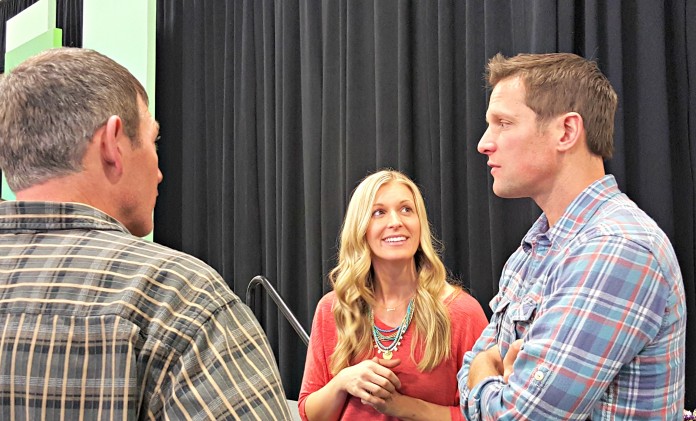 SANDY, Utah, March 12, 2016 (Gephardt Daily) — Chris Lambton and wife Peyton Wright Lambton have a history of turning imperfect conditions into beautiful solutions.
The DIY couple — known for appearing together on on "Going Yard" and for his hosting jobs on "HGTV: Smart Home" and "Yard Crashers" — shared their story and their design ideas this weekend with audiences at the Salt Lake Tribune Home & Garden Show.
The two met after each was failed to get the final rose on their respective seasons of "The Bachelor" and "The Bachelorette." But common friends from the two ABC series suggested the two meet, and rest is history.
The Lambtons talked to their Utah fans about garden hardscaping, or turning a backyard into an outdoor room for entertaining or enjoying as a family.
Chris talked about one family that wanted yard help including the removal of a weathered shed in the middle of its backyard.
"They wanted it removed," he said. "It was such an eyesore."
But the Lambtons saw it as an opportunity to salvage a character piece.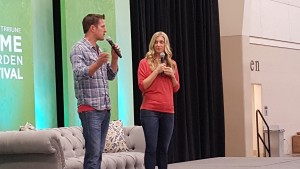 "We brought in a crane and moved it to the side of the yard," Peyton Lambton said. "We took off two walls and a hung a chandelier."
The result was a one-of-a-kind outdoor room, with a rustic exterior and lavish touches inside.
The grateful homeowners loved the space, and called last November to tell the Lambtons they were enjoying their Thanksgiving feast outdoors in their formerly despised shed for the fourth year in a row.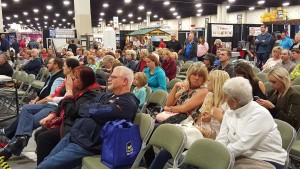 Another project the Lambtons shared with listeners was their recycling of an unwanted cement pad. The couple used a saw capable of cutting cement, and shaped sections into and angled, three-section bench big enough to provide strong seating for multiple people.
The bench wrapped around a backyard fire pit made of smaller, broken pieces of the cement pad.
One family had an old clothesline structure they wanted removed. The lines ran between two rusted metal poles, each topped with a bar that formed a T-shape.
Instead of ripping it out, Peyton Lambtons built a long, rectangular planter box that wrapped around the base of both poles. Inside, she planted feathery grass, which created interesting shadows when she wrapped strings of lights on the vintage clotheslines above.
"It turned into a unique design feature that they really loved," Peyton Lambton said.
Chris Lambton talked about jumping a neighbors fence and asking permission to remove an old fallen tree, to make pavers. The neighbor was thrilled to have his problem tree removed.
Lambton sanded and treated discs he cut from the trunk to make warm-toned "pavers" that he placed atop gray pea stone gravel. The result was a textured, contrasted walk area unlike anything you might see in other neighborhood yards.
The Lambtons will speak one more time at the Home & Garden Festival, at 2 p.m. Sunday. It's at the South Towne Expo Center, 9575 State St. The festival wraps at 6 p.m. Sunday.