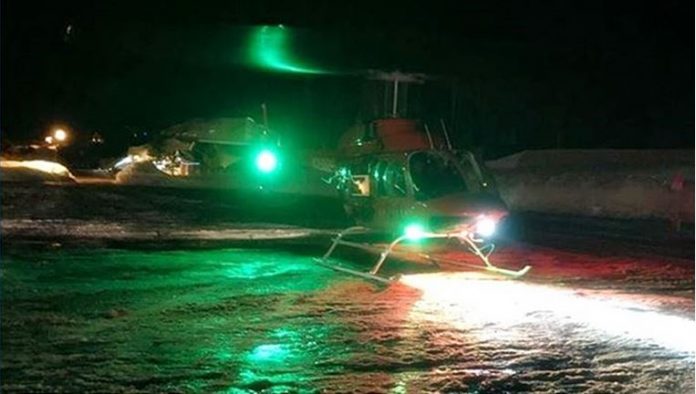 IRON COUNTY, Utah, Feb. 26, 2019 (Gephardt Daily) — Two hikers who were snowshoeing in the Brian Head area were rescued Sunday after they got lost as darkness fell.
Iron County Sheriff's Office, Iron County Search and Rescue, and the Southern Utah University Aviation Program responded to assist the Brian Head Marshal's Office in the search for the overdue pair.
SUU Aviation flight instructors Josh Larsen and Patrick Keranen went out in a Bell 206 helicopter equipped with night vision technology and were able to find the missing hikers at about 9 p.m., a news release from SUU said.
The hikers had found shelter from the cold in a cabin, where they "turned on the grill in order to catch the attention of the helicopter pilots," the news release said. "The hikers were cold and exhausted, but unharmed when picked up by the SUU Aviation pilots."
A news release from the Iron County Sheriff's Office said the searchers went out on snowmobiles, but the hikers were away from the area they were expected to be in, which necessitated the use of the helicopter. The search by helicopter took about 25 minutes.
"We are grateful to have the outcome we had and to be part of this team effort," the sheriff's office said.
According to the SUU news release, SUU pilots are sworn in as deputy sheriffs to assist the Iron County Sheriff's office in aerial operations.
"Aviation instructors have completed over 160 missions in search and locate, crime scene photography, stolen property recovery, and more," the release states.
Mike Mower, Executive Director of SUU Aviation and Chief Flight Instructor, was quoted as saying, "What we do is a community service. We don't replace; we assist the Iron County Sheriff Search and Rescue. If any praise is given for the rescues, it's those guys –- they search all night and literally hike up and down canyons to find lost people."