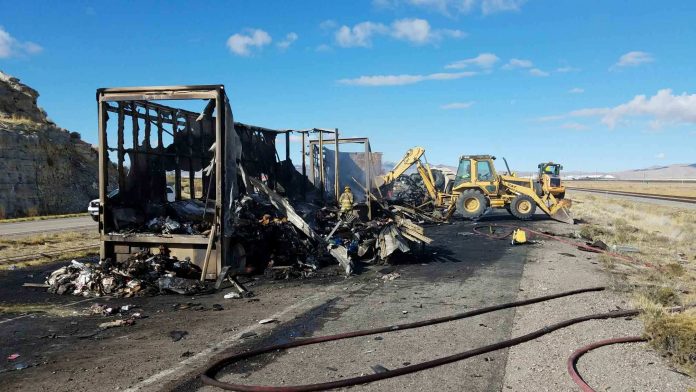 TOOELE COUNTY, Utah, Oct. 19, 2016 (Gephardt Daily) — Utah Highway Patrol has identified two people killed in a fiery truck crash on Interstate 80 in Tooele County onWednesday morning.
Fred V. Marsh, 61, from Sun Valley, Nevada, was driving a semi hauling medical equipment, and Robert E. Kuntz, 58, Urich, Missouri, was a passenger in a Federal Express truck.
Sgt. Todd Royce, of the Utah Highway Patrol, said the accident happened around 3 a.m. near the intersection of State Route 196 and Interstate 80 outside Grantsville, just east of the Dugway exit.
A semi-truck traveling east on I-80 failed to make a right-hand curve and ran off into the median at milepost 77. The military vehicle that he was hauling came off the trailer and came to rest in one of the westbound lanes.
A westbound FedEx semi-truck hauling a set of doubles struck the military vehicle, causing the FedEx truck to catch fire.
The eastbound semi-truck came to rest on its roof in the median. The FedEx semi-truck came to rest blocking both westbound lanes.
The FedEx driver was injured but survived.
Interstate 80 was closed to both eastbound and westbound traffic for several hours.
According to reports, parts of the road needed to be repaved due to the intensity of the fire.