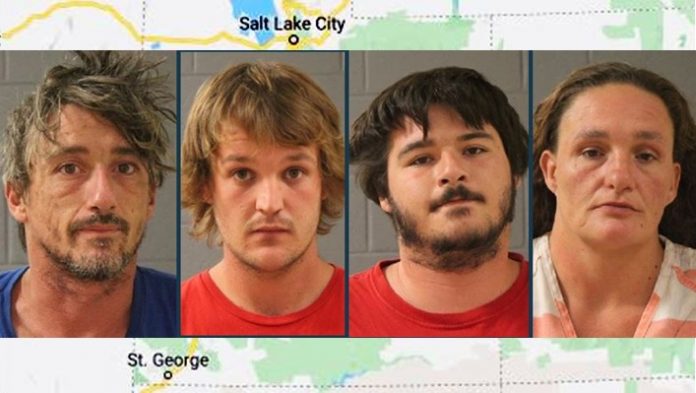 ST. GEORGE, Utah, Oct. 11, 2019 (Gephardt Daily) — Two more people have been arrested in connection with the alleged financial exploitation of an 80-year-old St. George woman.
Martell T. Powell, 25, of Cedar City, and Rocky James Mott, 40, of Hurricane, are now charged in the case. Previously arrested were Terrence Quincy Powell, 23, of St. George, and Faye A. Renteria, 41, of Hurricane.
The four were arrested after family members of the victim, reviewing bank records, discovered the vulnerable octogenarian had been bilked out of an estimated $264,500. That amount is what has been confirmed so far, and the number may go up, an investigating officer said in a probable cause statement.
Officials were contacted on Wednesday by concerned family members, the statements say.
"During my investigation, I learned that the elderly woman had written checks and given these male suspects thousands of dollars in checks and currency," it says. "According to the victim's family, they were concerned because their mother was not all mentally cognizant, as she has trouble remembering things, following simple conversation topics, counting, etc.
"The family advised that there was one particular male suspect that had built a relationship with her, that they were especially concerned about."
"The male suspect that they were concerned about is a parolee that is supervised by Adult Probation and Parole," the statements say.
The victim's family said she had recently sold the family's cabin to Terrence Powell, with no money down, and that she had given him cash and checks in amounts including $30,000, $38,000, $82,000, and smaller amounts, on various occasions.
The statement said that Terrence Powell first knocked on the victim's door in early March and suggested exterior house repairs. The woman agreed to pay him and his workers upfront for jobs including yard work, painting trim and stucco, and resurfacing the driveway. The jobs were done poorly or left undone, the statement says. Additional damage has been done to the structure, it adds.
Charges
Details on charges filed are the following:
Terrence Powell was charged Thursday night with seven counts of exploitation of a vulnerable adult, one classified as a second-degree felony and six classified as third-degree felonies. His bail was set at $50,000.
Renteria was charged early Friday morning with 10 counts of exploitation of a vulnerable adult, nine of them classified as second-degree felonies and one as a third-degree felony. Her bail is also set at $50,000.
Martell Powell was booked into jail shortly after Renteria, and was charged with one count of exploitation of a vulnerable adult, a second-degree felony. His bail is set at $10,000.
Mott, arrested Thursday evening, faces the same charge and bail as Martell Powell.
It was not immediately clear whether additional suspects are being sought in the case.