UTAH – September 7, 2015 (Gephardt Daily) – Suspended Utah cornerback Dominique Hatfield has been reinstated by coach Kyle Whittingham, ESPN reported Monday.
Hatfield was charged with felony aggravated robbery and misdemeanor theft in July, but the charges were subsequently dropped. He also was cleared by the university of an unrelated misdemeanor assault charge. He has already been readmitted to school.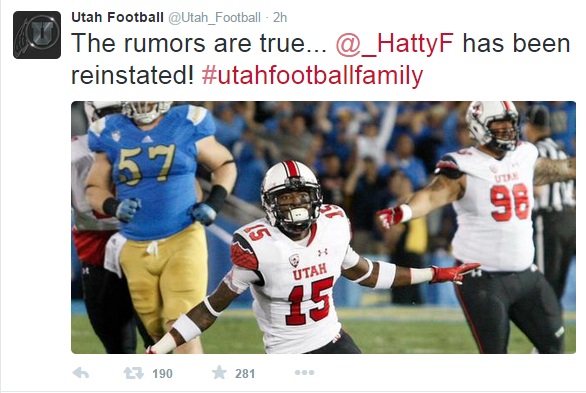 Whittingham, talking to reporters Monday, wouldn't say whether Hatfield would be available to play Friday against Utah State. He added that Hatfield won't be made available to the media.
In a July statement, Whittingham said, "We are relieved that Dominique has been exonerated of the charges against him but that does not necessarily impact the disciplinary actions we imposed due to a violation of team rules." Whittingham added, "There is, however, the possibility of future reinstatement to our team if he is able to meet certain expectations we have in place for our student-athletes."
Hatfield, age 20, was arrested on June 30 after Unified Police were called to an armed robbery in Millcreek.
Hatfield is a junior from Los Angeles, California. He recorded 38 tackles and nine pass breakups last season. He switched from receiver to cornerback in game two of his sophomore year, and has since become a full-time cornerback.