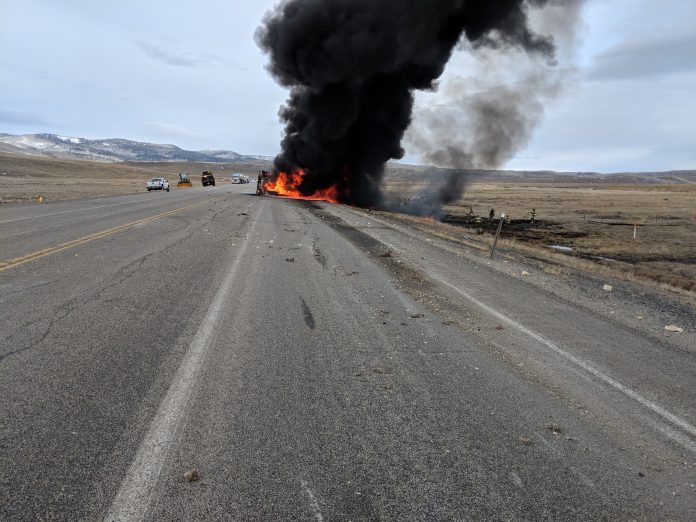 STRAWBERRY RESERVOIR, Utah, April 4, 2018 (Gephardt Daily) — A semi-truck crash closed U.S. 40 near Strawberry Reservoir in both directions Wednesday.
The truck's pup trailer rolled in the crash, which occurred just after 7 a.m. at mile post 42, according to a news release from the Utah Highway Patrol. The rollover caused a fire, but the driver detached the tractor and long trailer from the pup and moved them from the scene. 
The pup trailer was fully engulfed in the westbound lane of U.S. 40. 
"It was determined that the driver had fallen asleep and drifted off the right shoulder of the road," the news release said. "When he corrected back onto the roadway, the pup trailer rolled and then caught fire."
Wasatch County Fire responded and extinguished the blaze. 
An alternating traffic lane opened around 10 a.m. All lanes were reopened by 4 p.m.
The trucking company is working with Envirocare on the clean up of the crash scene as well as crude oil that entered a stream next to the crash. 
Drivers are being advised to avoid the area if possible.
Gephardt Daily will have more on this developing story as information becomes available.