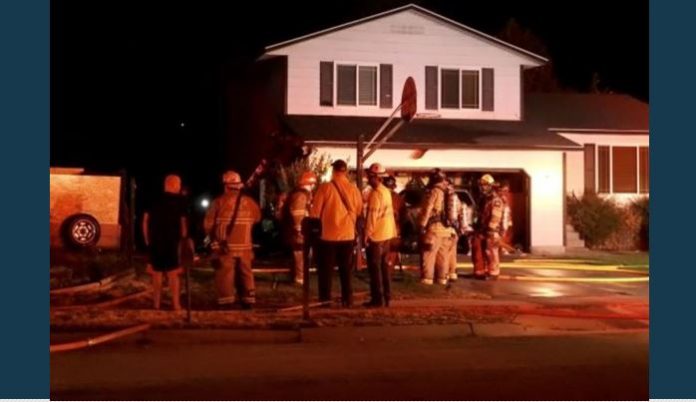 TAYLORSVILLE, Utah, June 30, 2018 (Gephardt Daily) — Quick action by firefighters helped limit damage to two homes in Taylorsville early Saturday morning.
Unified Fire Authorities were called to the scene at about 3 a.m., and responded to what they were told was a brush fire. Instead, the flames were burning the siding on two homes, and the wooden fence and shrubs between them. The homes were at 5446 S. and 5430 S. Hugoton Drive.
"We were sent out on a large outdoor fire, threatening two homes, so our guys showed up in their brush gear, ready for a large outdoor fire," said Ross Fowlks, UFA Battalion Chief.
"Upon arrival, we have siding burning on both houses, so the initial crews show up and they hit it with their deck gun on top of the engine.
"They got a good knock down on it, right from the start," Fowlks said. "We called for additional resources to go inside and check the inside."
Fowlks said the homeowner to the north escaped without injury, and had called in the fire. The homeowner on the south was asleep, and police entered the residence and found him in the basement. He was evacuated without injury.
Timing was crucial, Fowlks said.
"We had about 60 more seconds and the fire would have extended to the attic in the house on the south. Getting the water on it right from the start and the quick initial action from our crews kept it from going anywhere inside."
The wooden fence between the two houses, and the shrubbery was charred, Fowlks said.
"I don't know what was in the middle there," he told Gephardt Daily at the scene.
"I would say it's not suspicious, more accidental, but we will leave that to investigators. At 3 a.m., it was probably not fireworks, but who knows?"