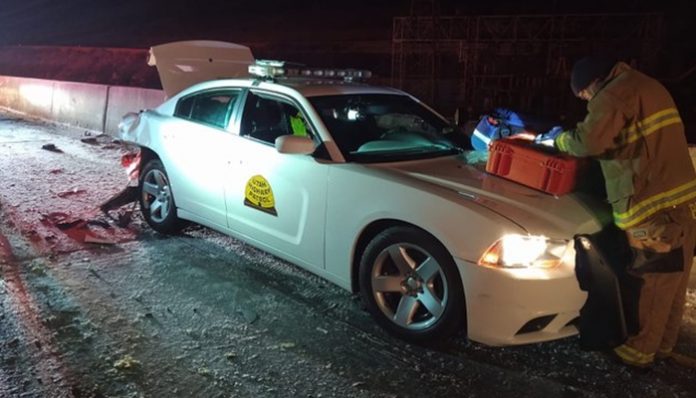 UTAH, Oct. 29, 2019 (Gephardt Daily) — A Utah Highway Patrol trooper sustained minor injuries after his patrol vehicle was hit on Interstate 84 Monday night.
"One of our Sergeant's vehicles was hit last night on I-84 after a motorist attempted to pass by a crash scene," said a tweet from Utah Highway Patrol. "They failed to maintain control of their vehicle and slid into the parked Sarge's car. Our Sarge went to the hospital and was treated for minor injuries. He is home now."
The other motorist was not injured.
UHP officials warned drivers Monday night to prepare for a "pretty severe weather event" throughout the state Tuesday.
A video featuring UHP spokesman Sgt. Nick Street said drivers are being reminded to first, check their equipment.
"Make sure your tires have an appropriate tread for the roadway conditions that are going to present themselves not just tomorrow but for the rest of the winter," Street said.
Second, in adverse winter weather driving conditions, drivers need to increase their following distance, Street said.
"State law requires two seconds, we recommend you increase that on wet, icy roads with snow falling to eight to 10 seconds," he said. "You also need to plan on driving 12 to 15 seconds ahead, make sure your vision is down the road a good distance so you can see those cars that haven't taken the proper precautions, when they spin out in their lane you can avoid them or avoid other road hazards."
Drivers are also urged to slow down.
"The posted speed limit is a maximum speed and it definitely doesn't apply during the winter months when there are wet and icy road conditions, and that's something you're going to have to take into account so you know you have to leave a little bit earlier to get to your destination," Street said.