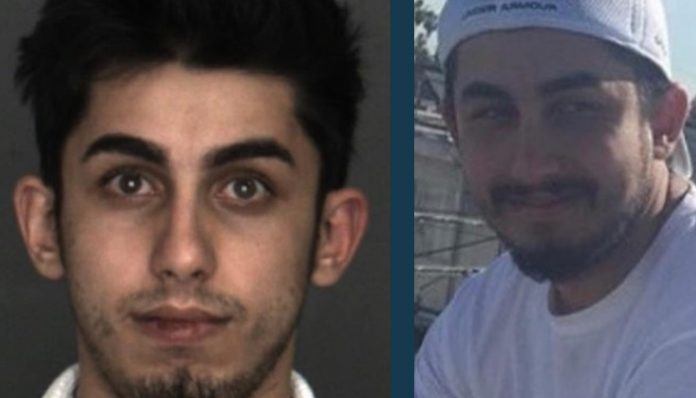 PAROWAN, Utah, Aug. 1, 2019 (Gephardt Daily) — A Utah Highway Patrol trooper arrested a suspected kidnapper from California near Parowan Thursday evening.
"Just before 7:30 p.m., a trooper was able to identify the father of a kidnapping suspect as he was southbound on I-15 at mile marker 78 near Parowan," said a news release from UHP. "As he performed a traffic stop on the vehicle, he identified a rear seat passenger as Joshua Adle, a kidnapping suspect out of Riverside, California."
The suspect, Adle, and his parents were taken into custody without incident, the news release said.
"The two girls, an infant and toddler, were found unharmed in the vehicle," the news release said. "Troopers will work with the Division of Child and Family Services to get the girls back to their mother in California. Adle and his parents will be booked into the Iron County Jail where they will await extradition back to Riverside to await formal charges."
Riverside Police Department posted on Facebook that the California Highway Patrol issued an advisory for 18-month-old Darla Yonko and her sister, 8-month-old Emma Yonko, at 3:45 a.m. Wednesday.
The Facebook post from Riverside PD said that on Tuesday between 9 p.m. and 10 p.m., the girls' mother and Adle, her live-in boyfriend, were in a "verbal and physical domestic altercation." The mother put her daughters to bed then temporarily left their residence. She returned shortly before 11 p.m. and both the suspect and the children were gone.
"Officers arrived and began their investigation in which they determined the boyfriend took the children without the mother's consent, along with the children's legal identification documents and other items," the post said. "He told the mother he was going to a local business with the children but was never located, and never returned home."
Riverside police thought the three could be headed to Michigan, where Adle is from.
Officials did not issue an Amber Alert because they were not sure there was a threat to the girls.
The news release from UHP concluded: "Troopers knew the suspect was in the area thanks to guidance from the FBI Violent Crime Task Force. A great team effort to bring a good ending to a scary situation. Well done, troops!"
A Facebook post from Riverside PD Thursday evening said: "We are extremely grateful to the very observant trooper of the Utah State Highway Patrol for locating these two missing children. The babies are safe and in the protective custody of social services in Utah. Their return to California is currently being coordinated."