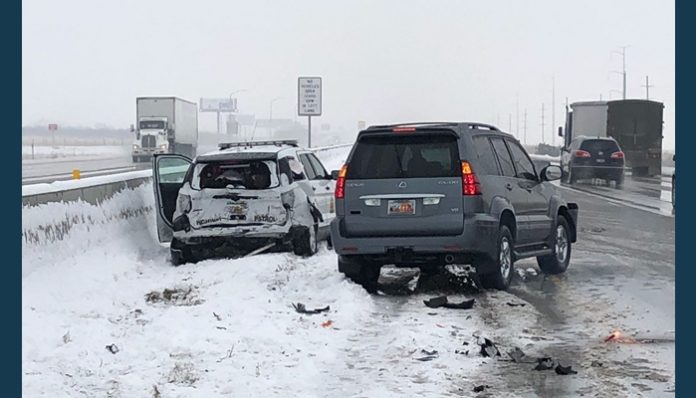 WILLARD, Utah, Jan. 16, 2019 (Gephardt Daily) — A Utah Highway Patrol trooper had to jump a median barrier on Interstate 15 to avoid getting crushed between his own vehicle and an SUV Wednesday.
"One of our trooper's vehicles was hit on the shoulder of I-15 near Willard," said a tweet from the UHP. "Trooper Schaefer had to jump the median barrier next to his car to narrowly miss being crushed between the two vehicles."
UHP spokesman Sgt. Nick Street told Gephardt Daily the trooper was parked on the left shoulder of the freeway and was setting up cones and flares for three crashes that had just occurred when the incident happened.
The trooper was not injured, the tweet said.
"We need the public's help in paying better attention your speeds," the tweet said. "On snow packed icy roads, decrease your speed by at least 75 percent of the speed limit."
A follow up tweet said: "Our heads are always on a swivel out there, but please help us out and #slowdownmoveover."