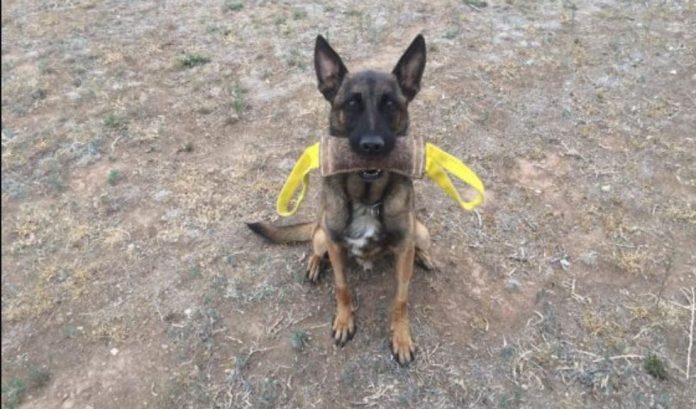 UINTAH COUNTY, Utah, May 29, 2018 (Gephardt Daily) — The Uintah County Sheriff's Office is mourning the loss of K-9 Aries, who had to be euthanized last week after recently being diagnosed with cancer.
"Last week the sheriff's office lost an important member of our team as K-9 Aries had to be euthanized," the Uintah County Sheriff's Office posted on Facebook. "We are grateful for Aries and his handler, Deputy Kyle Fuller, for their commitment to keeping our community safe."
Fuller wrote a dedication to Aries on the Facebook page.
"On May 22, 2018, K-9 Aries left our pack with the Uintah County Sheriff's K-9 Unit to start his own," he wrote. "Aries was the first ever certified explosive detection K-9 in the Uintah Basin. Aries completed training in September of 2016 and was certified on explosives from each of the different families of explosives."
Aries was also certified on bite apprehension, tracking, and trailing, Fuller said. Aries was deployed multiple times on bomb threats, homicide investigations, probation checks, tracking fleeing subjects, and evidence location that extended beyond the boundaries of Uintah County. 
"Aries was a small Belgian Malinois with an enormous amount of energy," the post goes on. "Aries enjoyed searching so much he could deploy for hours at a time looking for explosives. If Aries' kennel inside our patrol vehicle was left open even slightly, Aries would try his hardest to get into the passenger seat to see what was going on."
Fuller said that when others were being evacuated from a bomb threat, he and Aries were going in to make sure the area was safe.
"I knew I could always trust Aries would not miss anything in those tense situations," he wrote. "Aries would watch me each and every time I got out of my patrol vehicle on a traffic stop or made contact with someone, making sure that I was safe. Aries would alert me if anyone walked up on our patrol vehicle which gave me peace of mind in a time when officers are being shot while eating or just fueling up their vehicles."
Aries was recently diagnosed with cancer which led to stomach complications, the post said.
Law enforcement officers will be escorting Aries' remains from the Sheriff's Office to Fuller's home on Wednesday.