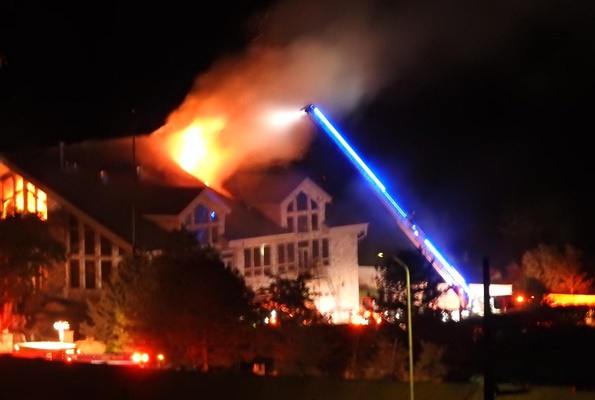 HOLLADAY, Utah, Aug. 3, 2019 (Gephardt Daily) — Unified Fire Authority crews are battling a 3-alarm structure fire Saturday night on Tolcate Woods Lane.
The blaze was reported at about 8:20 p.m., and the caller said a lot of smoke was coming through the roof.
UFA said at about 10:15 p.m. that the burning building, which was engulfed by flames, is a 25,000-square-foot single-family home, with fire on every level of the structure.
UFA also stated that firefighters have been pulled out of the structure after the main floor became compromised, and they were in defensive mode as they worked to bring the blaze under control.
UFA Public Information Officer Ryan Love said crews initially had limited access to the structure, which is on the west side of Interstate 215, at 6085 S. Tolcate Woods Lane (2930 East).
Seventeen units had responded to the scene, Love said. More units were subsequently requested.
Gephardt Daily will update this developing story as more information becomes available.