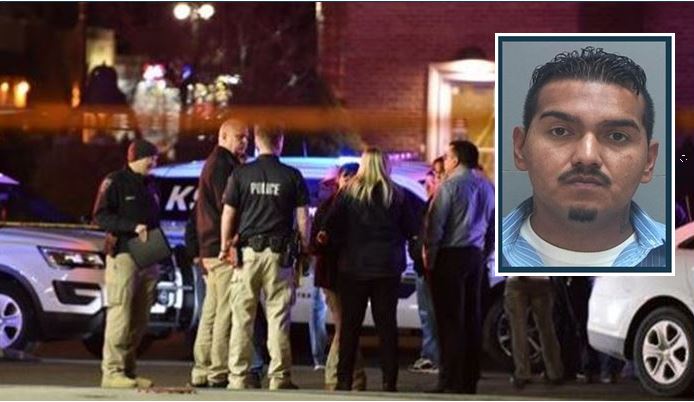 MIDVALE, Utah, March 21, 2019 (Gephardt Daily) — Unified Police Department officials have identified the man killed in a Midvale homicide along with the suspect, who died hours later of a self-inflicted gunshot wound in Cottonwood Heights.
"The victim is Ray Paul Willie Vasquez, 40 years old," says a tweet issued Thursday morning by the Unified Police Department. "The suspect has been identified as Jose Luis Garcia, 24 years old.
"The suspect and victim are known to each other and this incident was not random."
Vasquez a parolee
Vasquez' status as a convicted sex offender was known to police, who were heard referencing it at the homicide scene.
Court records show that Vasquez had been granted parole on Dec. 4, 2018, after serving seven years in prison for sexually abusing the daughter of his girlfriend. The abuse began  in 2008, when the child was 8, and continued through 2011, court paperwork says.
Vasquez was arrested in 2011, and accepted a plea deal two years later that resulted in a sentence of 1 to 15 years in the Utah State Prison for each of two counts of sexual abuse of a child, one a first-degree felony and one a second-degree felony.
As part of the plea deal, additional charges were dismissed with prejudice. Those charges were two counts of rape of a child and one count of attempted sodomy on a child, all first-degree felonies.
A search of Utah's online court records did not immediately reveal any charges or convictions against Garcia, the suspect in Vasquez's shooting.
UPD officials have not commented on any possible link between Vasquez' criminal record and his murder.
Background
Unified Police officials were called to the first scene, a Maverik convenience store at 7728 S. Main St., at about 9 p.m. Wednesday.
"We received a call of shots fired in the area, and our officers responded very quickly," Sgt. Melody Gray, Unified Police Department, told Gephardt Daily at the scene.
"When they arrived, they found a middle-aged male in his vehicle, parked in the Maverik (parking lot), deceased from gunshot wounds."
The shooter was believed to have driven a black Jeep Wrangler, Gray said. The vehicle was caught on surveillance video, and an image was distributed, with area police asked to attempt to locate the Jeep.
Several police agencies believed they had seen the suspect vehicle, Gray said later.
When Cottonwood Heights police saw the Jeep Wrangler shortly after 11 p.m., they were able to keep it in their sight.
"They engaged in a pursuit with that vehicle," Gray told reporters just before 12:30 a.m. Thursday at the second scene, near 8400 Hill Haven Lane.
"That vehicle rolled and crashed, and the driver of that vehicle is deceased from a what appears to be a gunshot wound which is self-inflicted. This is the vehicle that was used in that shooting, so the suspect, we anticipate, is the person that is in that vehicle."
Gray said at the second scene that detectives were being called to the scene to determine the exact sequence of events and collect evidence to be used in the investigation.
"We are just beginning to get people out here, detectives from other areas, to investigate," she said. Police had the gun the man used on himself, and forensic testing would determine if it was a match for the gun used in the Midvale homicide, Gray said.
"He is not a threat to the public. He is deceased, and this (crime scene evidence) should be removed before school is started," Gray said regarding the crash location, near Peruvian Park Elementary School.
Gephardt Daily will have updates on this story as more information becomes available.