MAGNA, UTAH – August 27, 2015 (Gephardt Daily) – Unified Police officers are seeking the public's help in identifying a man who broke into the Copper King Bar Thursday morning.
According to Lt. Lex Bell, another officer was patrolling Main street when she was approached by a woman who was waving her arms to get her attention. "The woman told our officers that the glass to the front door of the Copper King had been broken out," said Bell. "The officer then placed a call to the owners who came down immediately."
Bell said the man broke the glass on the front door, went inside and straight to a arcade machine. "He destroyed this machine in an attempt to steal the money," said Bell. "But the man did not realize there is another box inside the machine that holds the money so he was not able to actually get any of the cash."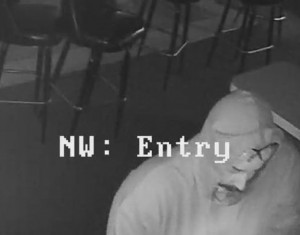 Officers were able to obtain surveillance footage and have released the photos in an effort to help identify the suspect.
He is described as an older male with a mustache and wearing jeans, a black jacket with a hood, and gloves.
The suspect then rode off on a newer sporty four wheeler that has a blue plastic body, a chrome front brush guard and yellow shocks. "We believe he lives in the area due to the fact that you cannot ride four wheelers on the city streets," said Bell. "Hopefully someone will recognize him and let us know who he is."
If you recognize the man in the photos, please contact Unified Police at 801-743-7000 and reference case 15-145818.