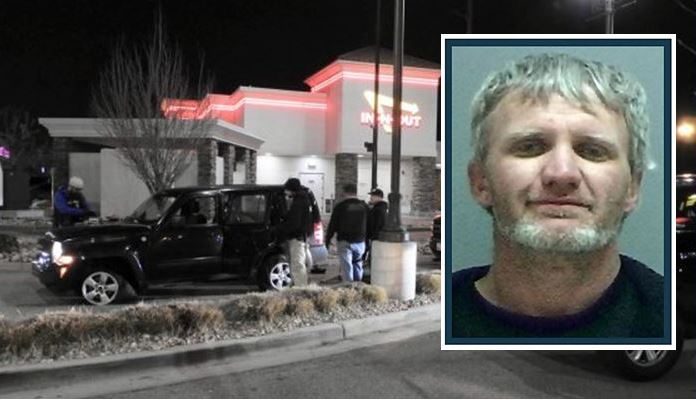 TAYLORSVILLE, Utah, March 22, 2019 (Gephardt Daily) — Police have identified a man taken into custody after a brief police chase early Friday morning, which ended when the tires of his stolen vehicle were spiked and flattened.
The suspect is Dylan Hall, 32, booked into the Salt Lake County Jail on suspicion of:
Receipt or transfer of a stolen vehicle, a second-degree felony
Two counts of failure to respond at the command of police, a third-degree felony
Controlled substance schedule 3, 4 and 5, a third-degree felony
Use or possession of drug paraphernalia, a class-B misdemeanor
Lt. Manfred Lassig, Unified Police Department, told Gephardt Daily at the scene that officers of the UPD and the Metro Gang Unit noticed a black Jeep, and ran its plate.
"It came back as a stolen vehicle, and there'd been a history of a black Jeep fleeing from us previously," Lassig said.
Officers followed the Jeep, but called ahead for a spike strip to be put in place.
Another UPD officer filed a probable cause statement as part of Hall's arrest.
"I spiked the vehicle at 4700 South and 1300 West," the statement says. "At the same time another officer activated their emergency red and blue lights and sirens. The vehicle failed to yield. It was obvious the vehicle wasn't going to yield, so a pursuit wasn't initiated and all emergency lights were deactivated."
Officers watched the Jeep from a distance, the statement says.
"It eventually went back to main roads," the arrest statement says. "Three or four tires were flat, and it continued to try and get away. Due to the vehicle running red lights, another officer activated their emergency red and blue lights and sirens.
"The vehicle still refused to stop, but due to the low speeds he was still followed with all emergency equipment activated. After a couple miles it finally stopped. The driver later identified as Dylan Hall was taken into custody.
"Post Miranda Dylan stated he suspected the car to be stolen. Dylan also
asked 'Why did you spike me before turning on your lights?' He also told me he didn't want to go to jail, so he didn't want to stop."
Officers searching the vehicle found meth and a glass pipe commonly used for smoking meth, the statement said.
Hall's bail has been set at $25,680.