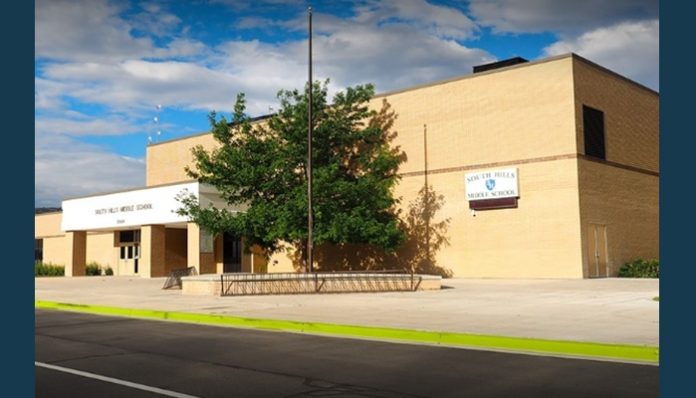 RIVERTON, Utah, April 29, 2019 (Gephardt Daily) — A Unified Police Department officer was injured during an incident at South Hills Middle School in Riverton on Monday afternoon.
Unified Police Department tweeted that the suspect, Kalen Cook, 21, from Bluffdale, was arrested and booked into the Salt Lake County Jail. He is facing charges of two counts of aggravated assault on a police officer, resisting arrest, trespassing and possession of a controlled substance. His bail has been set at $25,000.
UPD Sgt. Melody Gray said the incident at the school, at 13508 S. 4000 West, occurred just before 2 p.m. The UPD school resource officer noticed a man on the property who "obviously didn't belong at a middle school," Gray said.
The resource officer went out to investigate why the man, subsequently identified as Cook, was on school property, Gray said, and when he approached the man, the man attacked the officer with a large piece of wood.
The officer, although he sustained some "pretty serious injuries," was able to deploy his Taser when a struggle ensued and took the suspect into custody with the assistance of another officer, Gray said. The officer was treated on scene by Unified Fire Authority.
The suspect was not injured, Gray said.
"We're trying to figure out exactly why he was on school property and why he attacked the officer. We don't know that yet," Gray added.
The suspect was in the far field, and on cameras it was shown that he climbed over the fence. He did not enter the school, Gray said. No students were on scene or injured in the course of the incident.
The probable cause statement for Cook said when the suspect was searched, he had a medium-size pocket knife in his pocket. In his coat was a container with chucks of marijuana, a large plastic bag with marijuana and a large apple with the middle cut
out that was full of marijuana.
The school was put on lockdown until the incident was cleared.
Gephardt Daily will have more on this developing story as information is made available.