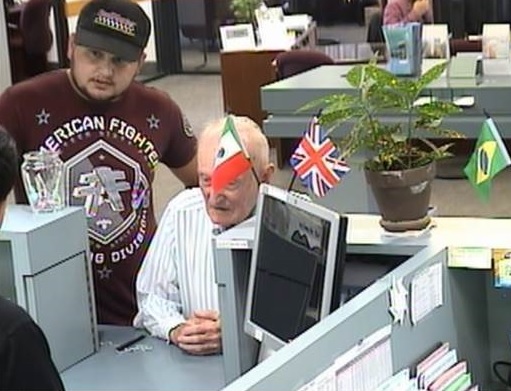 SALT LAKE COUNTY, Utah, July 5, 2018 (Gephardt Daily) — The Unified Police Department is searching for a suspect who reportedly drove an elderly man to a bank and waited while he withdrew a "substantial amount of money" for roof repairs that were never made.
"The suspect knocked on the door of a 90-year-old male and told him he was owed money for roof repairs," a news release from the UPD said. "Note, there had never been repairs made to his roof, nor is there any relation between the two parties."
The suspect then drove the victim to the bank in the victim's car and waited while the victim withdrew the money, police say.
The suspect then drove the victim home.
The bank surveillance photos show the suspect with a dark beard and mustache, wearing a black baseball cap and a maroon T-shirt that reads "American Fighter."
Anyone who sees the suspect or has any information about him is asked to call the UPD on 801-743-7000.