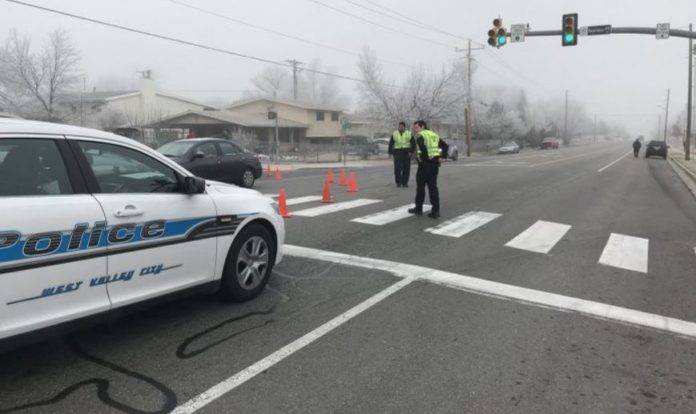 WEST VALLEY CITY, Utah, Dec. 13, 2017 (Gephardt Daily) — A 13-year-old boy hit by a car in front of a West Valley City junior high school Tuesday morning has been upgraded from critical to stable condition after undergoing surgery.
"He underwent emergency surgery due to bleeding in the brain and 2 fractures in his skull. After the surgery he was moved to ICU," said a statement said to be from the boy's mother on a GoFundMe page.
"Since his time in ICU they have not been able to stabilize him. We hope to get help with the medical bills as well as help with other expenses that incur while he is hospitalized. I am a single mother of two kids and any help would be appreciated. Prior to all this he was an active boy involved in all kinds of sports such as football, basketball, etc. Thank you in advance for any and all your help."
The incident happened just after 7:30 a.m. near Kennedy Junior High School at 4495 S. 4800 West, the West Valley City Police Department said in a news release on Twitter.
The boy was crossing to the school from the opposite side of the street on 4800 West and was not in a crosswalk when he was hit, the news release said. He was transported by ground ambulance to Primary Children's Hospital in Salt Lake City, where his condition was downgraded from serious to critical because of head trauma.
After undergoing surgery Tuesday afternoon, the seventh grader is now in stable condition.
The driver reported to police that they did not see the child. Although the area was hazy at the time of the crash, police said weather was not a contributing factor. It also does not appear that speed or impairment were factors in the incident. Police have not said whether the driver was male or female.
Both north and southbound lanes in front of Kennedy Junior High was blocked while the accident investigation was underway, police said, and drivers were asked to avoid the area.
Granite School District asked for thoughts and prayers for the boy and his family in a tweet.
There are grief counselors at the school to assist students.
Gephardt Daily will have more on this developing story as information becomes available.