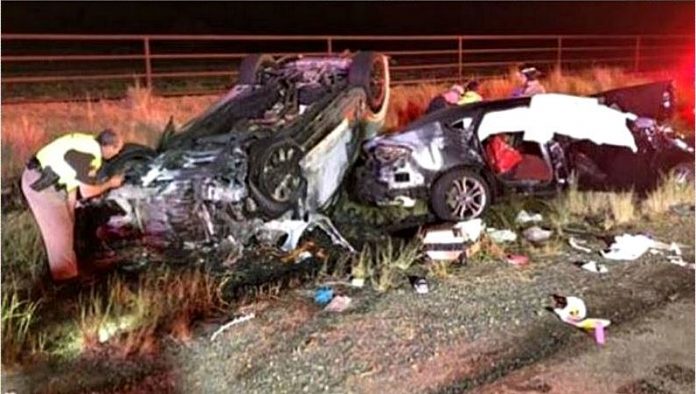 MILLARD COUNTY, Utah, June 20, 2018 (Gephardt Daily) — Three members of the same family are dead and a fourth is in extremely critical condition following a head-on crash Tuesday night just south of Scipio.
According to information released by the Utah Highway Patrol, the deceased are Tyrone Bova, 47, from Archdale, North Carolina, who was driving the black 2017 Ford Fusion involved in the crash; his wife, Holly Jo Bova, 43, a front seat passenger in the Fusion; and their son Haden Bova, 11, who was in the back seat.
A 17-year-old male passenger, also their son, is in very critical condition, and was transported to Primary Children's Hospital in Salt Lake City.
The family was in Utah on vacation.
Sgt. Todd Royce, Utah Highway Patrol, told Gephardt Daily the crash happened at about 8:46 p.m. on State Route 50, near milepost 134, in Millard County.
A white 2016 Porsche Cayenne was traveling east on S.R.-50, the UHP statement said. The driver passed another vehicle, then stayed left of center and did not return to her lane immediately. The Porsche then struck the Ford Fusion head-on.
"The Porsche flipped over onto its roof and the second car was forced backwards and off the side of the road," the news release said. "The vehicles then caught fire, with the occupants still pinned inside and unable to get out."
A passerby cut the seat belts from the passengers of the Porsche and helped them escape the fire.
All four occupants of the Ford Fusion had to be extricated. Fire crews arrived in time to prevent the fire from overtaking any of the occupants. Both front seat occupants of the Ford Fusion, Holly Jo and Tyrone Bova, were killed instantly and the 11-year-old passenger in back seat passed away en route to Primary Children's Hospital.
The driver of the Porsche is stable, and the 9-year-old passenger is in critical condition.
The roadway was closed for three to four hours after the crash to allow investigators to complete their work, officials said.
Investigators are looking at speed and distraction as being factors in the crash. Officials said there were dogs in the Porsche and they may have caused the driver to be distracted.
Gephardt Daily will have more on this developing story as information is made available.