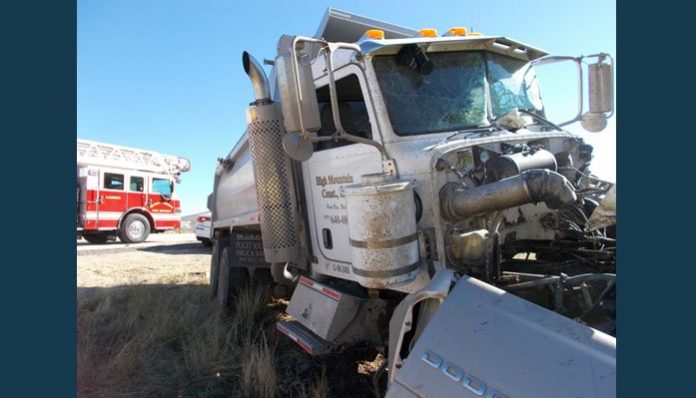 For an updated story, click here.
WASATCH COUNTY, Utah, Oct. 19, 2018 (Gephardt Daily) — Six people are confirmed dead after a dump truck broadsided a pickup truck on State Route 40 on Friday.
The deadly collision happened at 11:56 a.m., as the dump truck was traveling west on SR-40 near mile marker 10, a news release issued Friday night by the Utah Highway Patrol says. The site of the crash is near the southeast side of Jordanelle Reservoir.
"Due to possible impairment of drugs and alcohol, the driver of the dump truck crossed the median and vaulted over the cable barrier," the news release says. "A 2002 Dodge Ram pickup occupied by six adults was traveling eastbound when the dump truck crossed into eastbound lanes."
The dump truck struck the driver's side of the white Dodge pickup, and three of the occupants were thrown from the vehicle and died on the scene.
It was known that at least one more person was trapped inside the crushed pickup, which was wedged, mangled, under the dump truck, according to UHP Sgt. Lawrence Hopper at the scene.
At 4 p.m., the fourth victim was still inside the pickup. Once emergency responders were able to extricate the vehicle, it was learned that three people, all deceased, were in the pickup.
"All six occupants of the Dodge Ram are believed to be male adults and were killed on impact," the news release says.
A secondary accident occurred when a 2018 Jeep Wrangler was traveling east at the same location.
"The driver swerved to avoid the two trucks and lost control of the Jeep. The Jeep veered to the right, and rolled in the right hand shoulder, coming to rest upside down," the news release says.
Two female occupants of the Jeep were transported to Park City Medical Center with injuries that were not life-threatening.
The male driver of the dump truck was transported to Heber Medical Center with minor injuries. He declined to cooperate with UHP officers, Hopper said, adding at an afternoon news conference that officers were attempting to get a warrant for a blood draw to determine the suspect's DUI status.
"Once released from the hospital, he was transported to Wasatch County Jail and booked on six counts of automobile homicide, with more charges pending," the UHP statement that was released later says.
Evidence of impairment, said to include open alcohol containers and prescription drugs, is being collected from the scene. At least one door of the dump truck is labeled with the words "High Mountain Const." and "Park City, Utah."