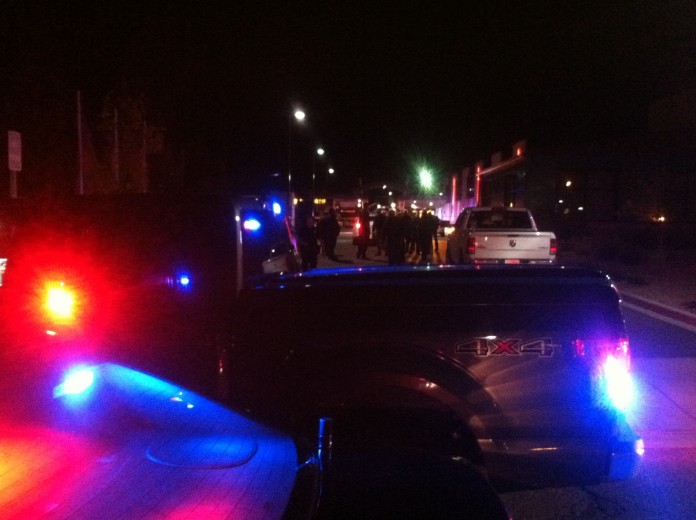 MIDVALE, UTAH – October 31, 2015 (Gephardt Daily) – An investigation into a stolen car outside a Midvale car wash ended in a hail of gunfire Friday night.  When the smoked cleared, an innocent man lie severely wounded, and the officer who mistakenly shot him was himself being attended to, his life having just been saved by a bullet proof vest.
According to an update by the Unified Police Department, one of its patrolmen was running license plates outside the Mouse Pad Internet cafe near 38 West and 7200 South around 8:30 p.m. when he discovered a stolen a car.
Moments later, police say the suspected car thief, 32-year-old Jeremy Michael Bowden, bolted from the cafe and ran west toward the Rocket Express Car Wash at 150 West, 7200 South.
It was there that he encountered UPD Officer Cory Tsouras, who was responding to a call for back-up.
Police say Bowden immediately opened fire on Tsouras' squad car, with one of eight shots passing through the windshield and striking the officer in the chest. A bullet proof vest is being credited for saving Tsouras' life.
"Rounds impacted the UPD vehicle through the driver's headrest, windshield, laptop, and side windows," police said.
In the heat of the moment, Tsouras saw a man he thought was the assailant trying to enter the car wash.
According to the Unified Police, Tsouras fired two shots, striking the man in the arm and leg.
The innocent bystander – whose name was not released – was rushed to the hospital with what were initially thought to be life-threatening injuries. He ultimately stabilized and is expected to survive.
Bowden, the suspected shooter, ran into a nearby apartment complex where he was ultimately Tased and captured by police.
Police say Bowden has an extensive criminal history and was wanted on numerous warrants.
He been booked into the Salt Lake County jail where he's been held without bail on attempted aggravated murder charges.