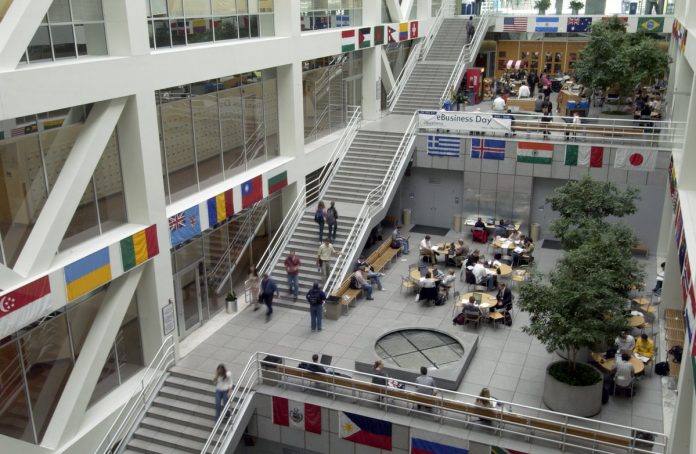 PROVO, Utah, Dec. 4, 2018 (Gephardt Daily) — Brigham Young University has confirmed a student left in critical condition after she fell from the fourth floor of the Tanner Building Monday morning was attempting suicide.
BYU police officials said the incident occurred at approximately 9 a.m. inside the Tanner Building, part of the J. Willard and Alice S. Marriott School of Business.
The woman was transported to Utah Valley Hospital in critical condition, officials said.
BYU tweeted later Monday: "The police have determined that today's tragic incident in the Tanner Building involving one of our students was an attempted suicide. Our prayers are with all who have been impacted. Please know that help is available."
Several people witnessed the fall, police said.
The following message from Academic Vice President Jim Rasband was sent to faculty Monday afternoon: "Most of you will be aware of this morning's tragic incident in the Tanner Building involving one of our students. We have closed the Tanner Building and cancelled today's classes there. We are also providing counselling services to our students. I write to ask that you be understanding and sensitive to students affected by this tragedy, particularly those who witnessed the incident. Thank you for your thoughtful help."
BYU tweeted: "For BYU students, please reach out to Counseling and Psychological Services, 1500 Wilkinson Student Center. Students can receive walk-in/crisis consultation during regular business hours Tuesday and Wednesday, 8 a.m. to 5 p.m."
After hours, students can call campus police and ask to speak with the on-call counselor, a follow-up tweet added. Also available locally is the Utah County Crisis Line at 801-691-5433. The National Suicide Prevention Lifeline can be reached at 1-800-273-TALK.
The identity and age of the student has not been released.
Gephardt Daily does not usually report on suicides or suicide attempts unless they occur in public places or otherwise impact a community.