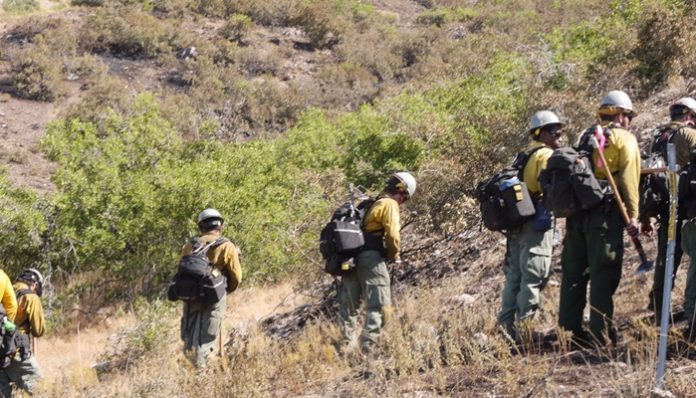 PROVO, Utah, Aug. 1, 2019 (Gephardt Daily) — A drone disrupted firefighting efforts on the Alaska Fire above the Bonneville Shore Line Trail in Provo Thursday morning.
"A drone intrusion has just occurred over the Alaska Fire," said a tweet from Utah Fire Info at 9 a.m. "It has shut down all air operations."
Officials reminded the public not to use drones in the area of wildfires.
Firefighters were first dispatched at 10:35 p.m. Tuesday to 2200 S. Alaska Ave., from which point the flames spread through the area between Alaska Avenue and the Bonneville Shoreline Trail, scorching about 50 acres, Provo Fire Chief James Miguel said.
A news release Thursday morning from the U.S. Forest Service said the fire has burned approximately 400 acres and is 10 percent contained.
"Yesterday, hand crews with assistance of air resources made good progress securing fire line along the Bonneville Shoreline Trail and on both flanks of the fire," the news release said.
"Late afternoon, a storm moved into the area and the fire received moderate to light rain into the evening. The precipitation knocked down active fire behavior and greatly helped suppression efforts. Only light smoke from small pockets of burning brush could be seen on the mountain yesterday evening."
Thursday, firefighters will focus on securing fire lines along the fire perimeter and mop up hot spots low on the slope, the news release said. Firefighters are using full suppression techniques to contain the fire, but the terrain is very steep and rocky, which will not allow hand crews to access some areas. A drying trend is beginning and will continue through Saturday, officials said.
A section of the Bonneville Shoreline Trail below the fire is closed to the public between Slate Canyon and Little Rock Canyon.
Resources currently assigned to the fire include four hand crews, seven engines, two helicopters and 120 personnel.
Officials said the fire is being investigated as human caused.
Gephardt Daily will follow up on this story as more information becomes available.