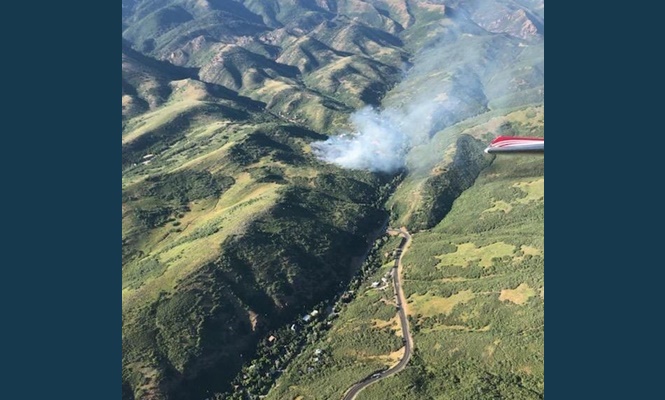 EMIGRATION CANYON, Utah, July 23, 2019 (Gephardt Daily) — The Emigration Fire, which started Monday evening in the Pinecrest/Killyon canyon area, was zero percent contained late Monday night, and firefighters will be continuing their containment effort through the night.
In a tweet just before midnight Monday, Unified Fire Authority said seven to 10 acres have burned and six to 10 homes have been evacuated.
Evacuations in the area were voluntary at first, but as the flames appeared to intensify and the fire expanded through the dry grass and oak brush, residents from the Emigration/Pinecrest junction to the Pinecrest/Killyon's junction were ordered to leave.
Unified Police officers went from door to door notifying residents of the mandatory evacuation.
No structures have been lost as of 11:45 p.m. Monday.
UFA and Salt Lake City Fire crews were dispatched to the area at about 6:16 p.m., along with a helicopter, a helitack crew, two airplanes, and 15 fire apparatus and crews, UFA tweeted.
A total of about 100 fire personnel have been working to get control of the blaze.
More than 40 local and state firefighters will remain on scene overnight, and multiple helicopters and air tankers will return around 6 a.m. Tuesday.
The cause of the fire is still unknown.
Gephardt Daily will continue to update this story as information becomes available.