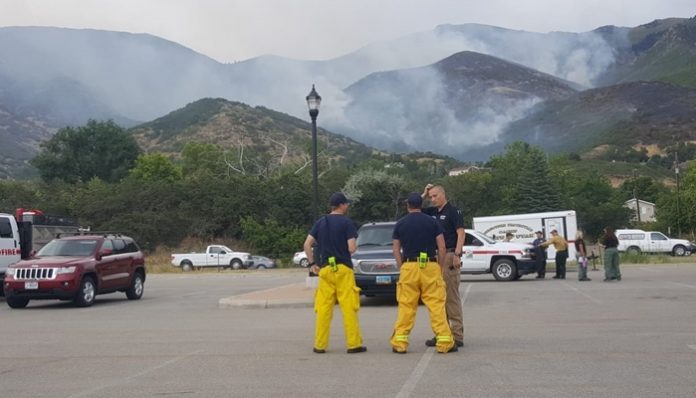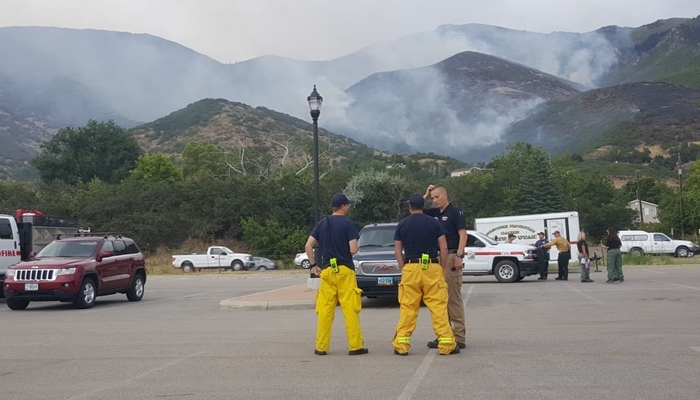 For an updated story click here. 
LAYTON, Utah, Sept. 3, 2019 (Gephardt Daily) — A fast-growing grass fire that broke out Monday night on Snoqualmie Circle above Antelope Drive and U.S. Highway 89 in Layton is zero percent contained Tuesday morning.
A tweet from Utah Fire Info at 9 a.m. said the Snoqualmie Fire, located east of Fernwood picnic area on the Salt Lake Ranger District, has burned approximately 117 acres.
Kim Osborn, the public information officer for the Northern Utah Interagency Fire Center said in a press conference at 11 a.m. Tuesday morning that some evacuations have been lifted in the area of 1850 Maxine Drive, and 3300 East and Boulder Drive. Areas still under evacuation are all of Snoqualmie Circle, Fernwood Drive, and Fernwood Circle, and 1850 North. Fernwood picnic area is closed. She said evacuations have been lifted for properties on the south end of the incident as there is less active fire there.
No one has been injured and no structures have been damaged, Osborn said.
She said a Type 3 Incident Command Team is coming in to manage the fire. There are four crews fighting the fire, and three helicopters.
The fire is burning in brush rather than grass, Osborn said, which may take longer to fight because the fire can get under the brush. Crews are trying to avoid using retardants to protect the purity of the watershed, she added. Cooler temperatures and higher humidity are assisting the firefighting efforts Tuesday morning.
Evacuation centers have been set up at Mountain View Baptist Church, 2585 E. Highway 89, and at the LDS Church building at 2680 E. Cherry Lane, but the LDS Church center is now closed, and evacuees are at Mountain View Baptist Church. The Red Cross also is on scene to assist residents.
Pet owners should note Davis County Animal Services is at the LDS Church building on Cherry Lane to assist with pets, of any size, that have been evacuated because of the fire.
Crews from multiple fire departments began arriving after a passerby on Highway 89 reported the blaze around 9:30 p.m. A little past 10 p.m., they said the fire was at roughly 30 acres and growing. By 10:30 p.m., Layton Fire Department Battalion Chief Jason N. Cook said the blaze had grown to 40 to 50 acres.
About a half-hour later, officials reported that it was at 80 acres and was expected to grow overnight.
"Fortunately, the fire is above the residences, but at this time of night it's not unusual to get down-slope winds that could push the fire down toward the homes," Cook said Monday night. He added that crews have gone to great lengths to get structural protection in place, and at least 12 to 18 firefighters were laying lines in what officials are calling the Snoqualmie subdivision.
Firefighters also brought in extra water tenders to help supply water to the dry, uphill location, and Cook said they were rerouting water lines to ensure that they can get it up to the crews working on Snoqualmie Drive.
The cause of the fire is as yet unknown and is under investigation, if anyone has information about the cause of the fire they are asked to call Layton fire officials on 801-336-3940.
Gephardt Daily will update this developing story as more information becomes available.