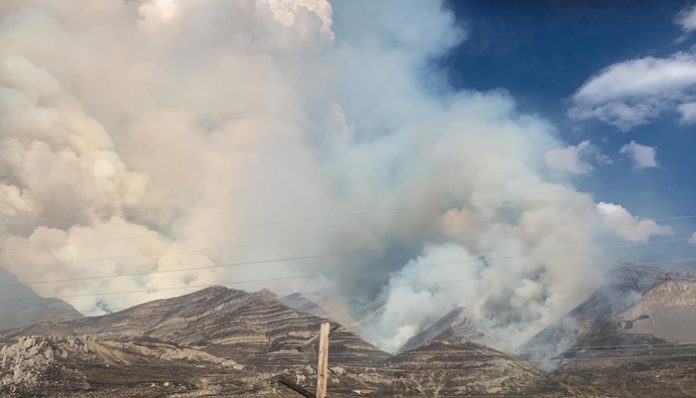 TOOELE COUNTY, Utah, Sept. 4, 2019 (Gephardt Daily) — A wildfire just east of Lake Point in Tooele County that began Tuesday afternoon is 1,719 acres Wednesday with zero percent containment.
At this time there are no evacuations in place and no injuries have been reported.
"The Green Ravine Fire is 50-plus acres currently burning to the north east away from structures," said a Facebook post from Tooele County Emergency Management at 3:30 p.m. Tuesday. "Fire crews are on scene. Please stay out of the area."
Driven by erratic and gusty winds, the fire grew to several hundred acres within a few hours, said a news release on the Utah Fire Info website Wednesday.
"A wind shift late Tuesday pushed the fire toward a neighborhood in Lakeside and firefighters stopped its progress toward the homes about 200 yards from homes," the news release said. "By the end of the day on Tuesday, the size was estimated at 1,000 acres."
About 60 personnel from the Bureau of Land Management, State of Utah and surrounding fire departments responded and put their main focus on protecting nearby homes and the powerline infrastructure. Several air tankers dropped fire retardant to limit fire growth on the north and south flanks as well as the ridge tops.
A major communications site, located at the top of Farnsworth Peak, is about one mile uphill from the fire edge, the news release said. Fire managers are focused on keeping the fire from reaching the peak.
"About 110 personnel are currently assigned to the fire including engine crews, hand crews, a hotshot crew, and three helicopters," the news release said. "Gusty, erratic winds are forecast for the fire Wednesday and those winds combined with the steep terrain will be challenging for the fire suppression effort. Containment is at zero percent; however, as progress is made throughout the day, that figure is expected to rise."
The cause of the fire is under investigation.
Lake Point is an unincorporated community on the eastern edge of northern Tooele County.
Gephardt Daily will have more on this developing story as information is made available.