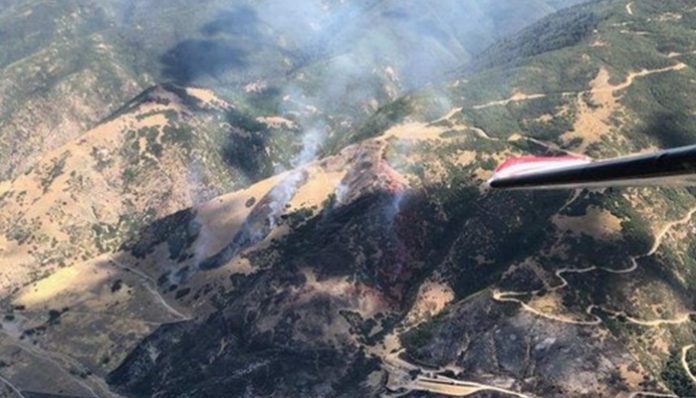 BOUNTIFUL, Utah, Sept. 1, 2019 (Gephardt Daily) — Officials announced Sunday that the Gun Range Fire east of Bountiful is now 80 percent contained at 321 acres.
The news comes after it was announced at around 11 a.m. Saturday that residents evacuated from nearly 300 residences due to the ongoing fire were allowed to return home. A total of three homes were destroyed and five were damaged by the blaze.
"Firefighters worked to secure lines Saturday and now have 80 percent containment," said an update Sunday from the Northern Utah Interagency Team. "The fire was mapped at 321 acres and continues to creep and smolder in areas of bush."
The resources assigned to the fire Sunday are two handcrews, two engines and 125 personnel.
The fire, which is on the Salt Lake Ranger District of the Uinta-Wasatch-Cache National Forest, began at approximately 12:30 a.m. Friday, the update said.
"The fire was started by an abandoned campfire and is still under investigation," the update said. "If anyone has information they should contact the Bountiful Police Department."
A Red Flag warning has been issued Sunday and this will give the firefighters the opportunity to ensure the lines will hold, the update said.
"Firefighters will work Sunday to rehabilitate the fireline to help prevent erosion," the update said. "A team will be in this week, to assess the effects of the fire on the landscape to determine what other steps may need to be taken. Crews will also continue to mop up hotspots that are nearest to the containment lines."
The update said that on Monday the Northern Utah Interagency Type 3 Team will turn the fire back over to the local forest. "Over the next week residents can expect to see smoke in the interior of the fire," the update said. "Personnel will be patrolling the fire and taking any further actions if necessary. The Northern Utah Interagency Team would like to thank the cooperating agencies and the members of the community for their support."
The update noted Ward Canyon Road is closed from the Forest boundary to the intersection of Skyline Drive and Sessions Mountain Road. The North Firebreak Road is closed on National Forest Lands from the Bountiful B north to Rick's Creek. The forest service road closures will be lifted at 8 p.m. Sunday.
Bountiful's Tolman Park, at 100 N. 1300 East, is still being used as a fire camp and will reopen to the public Monday morning.
Gephardt Daily will have more on this developing story as information is made available.