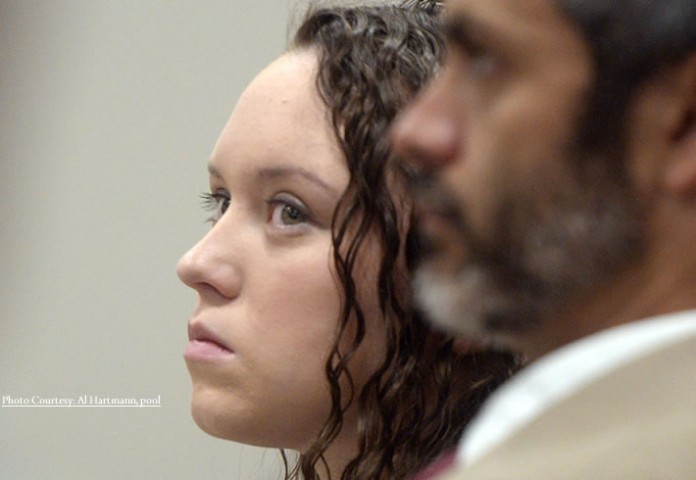 PROVO, UTAH – July 28, 2015 (Gephardt Daily & Herald Extra) —
A Utah County teen convicted of murder has requested a new trial, claiming the judge was biased, according to the Herald Extra.
It's been less than a month since Meagan Grunwald, 18, was convicted in the murder of a Utah County Sheriff's Office sergeant and sentenced to 25 years to life in prison.
Grunwald was sentenced to 25 years to life for aggravated murder and a consecutive sentence of five years to life for aggravated robbery.
The jury reached a verdict in the murder trial on May 9, finding Grunwald guilty on 11 of the 12 charges she was facing.
Grunwald was charged with being an accomplice to murder in the shooting death of Sgt. Cory Wride with the Utah County Sheriff's Office. Jose Angel Garcia-Juaregui, her ex-boyfriend, was shot and killed on Jan. 30, 2014 in Juab County after an hours-long crime spree that left Wride dead, Deputy Greg Sherwood seriously injured and traumatized countless others.
The only charge Grunwald was found not guilty of was the attempted aggravated murder of trooper Jeff Blankenagel. Her convictions now include three charges of discharging a firearm, two charges of criminal mischief, failure to stop, aggravated robbery and one charge of possession of methamphetamine as well as aggravated attempted murder in the shooting of Deputy Greg Sherwood, who was injured during the shoot out.
While she was teary-eyed and emotional as her defense attorney, Dean Zabriskie questioned her, she remained mostly solemn and stone-faced and spoke softly as prosecutor Sam Pead conducted his cross examination with stern and resolute questions.
Dash cam video of Sherwood's pursuit of the pair was played in court, showing the exact moment when Garcia-Juaregui shot Sherwood in the head. Sherwood told the jury that he's about 60-70 percent recovered.
Her attorneys, Rhome and Dean Zabriskie, have asserted that she was being held hostage and was acting out of compulsion when she drove Jose Angel Garcia-Juaregui, her alleged boyfriend, around Utah County before the shootout claimed his life and Wride's.
However, the prosecution feels it was love which led Grunwald to engage in those crimes more than a year ago.
According to a motion submitted to the court by her new attorney, Douglas Thompson, Grunwald felt Judge Darold McDade's comments at sentencing "infringed upon her right to a fair trial." Grunwald asserts the comments did not demonstrate impartiality and exhibited a bias that originated outside of the court proceedings.