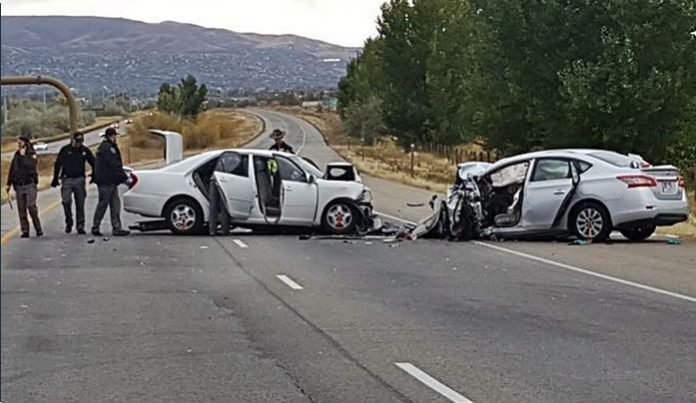 DAVIS COUNTY, Utah, Oct. 21, 2019 (Gephardt Daily) — Officials have identified two people who died when a wrong-way driver collided head-on with a southbound driver on southbound Legacy Parkway Saturday.
The two deceased individuals are Gissell Enciso, 19, a woman from West Valley City, and Destry R. Hone, 38, a man from Spanish Fork.
Hone was a back-seat passenger in a Toyota Camry, which was the vehicle that was traveling in the wrong direction. Enciso was a front seat passenger in a Nissan Sentra, which was the car that was hit.
The accident happened at about 11:30 a.m. at mile marker 11, in Farmington, Utah Highway Patrol Sgt. Lawrence Hopper told Gephardt Daily at the scene.
The white Camry entered southbound traffic going northbound near Parrish Lane. Preliminary investigation has determined the wrong way vehicle may have entered from Parrish Lane via the off-ramp, said a news release from the UHP.
"On troopers' arrival, two occupants, one from each vehicle, were deceased," the news release said. "The driver from a Nissan Sentra was pinned in, later extricated, and flown to the hospital via air ambulance. The driver and a passenger of a Toyota Camry were transported to a hospital and are currently being treated."
Southbound Legacy was shut down until approximately 4:30 p.m.
It's not clear at this time why the vehicle was traveling the wrong way.
Hopper said people often ask him what they should do if they encounter a wrong-way driver. He suggests scanning ahead to give yourself more time to react.
"If you're looking at the vehicle in front of you, you're not going to have any time to react if there's a wrong-way vehicle. We recommend that when you're traveling on the freeway, you just scan as far as you can to see any kind of hazards that may be ahead of you. If there's a wrong way vehicle and you're scanning far ahead, you have time to react to it, and that would be to move over to avoid getting hit.
"If you don't have time, always wear your seat belt, and if you can swerve to avoid a collision, that's what we recommend."