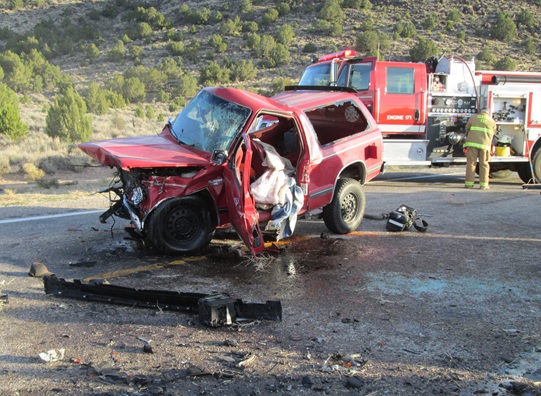 WASHINGTON COUNTY, Utah, Oct. 16, 2018 (Gephardt Daily) — Officials have identified a woman killed in a head-on crash in Washington County Tuesday morning.
The deceased is Wendy Pollock, 24, of Enterprise, the Utah Highway Patrol said in a news release.
The incident occurred on State Route 18 at mile marker 23, near Veyo, the news release said.
A red Chevy S-10 was northbound on SR-18 and a gray Pontiac passenger car was southbound at the same location, officials said. For an unknown reason, the Chevy S-10 crossed the center line, into the southbound travel lane.
The female driver of the Pontiac, later identified as Pollock, steered left, into the northbound lane, in an effort to avoid a collision. The man driving the Chevy steered back into the northbound lane at the same time.
"The front of the Chevy struck the right front of the Pontiac, with the force of the impact directed into the driver's compartment of the Pontiac," the news release said.
Pollock was killed on impact and the man driving the Chevy is in extremely critical condition. The man, who has not been identified, was flown by helicopter to the Dixie Regional Medical Center in St. George.
The woman's body was transported to the Utah Office of the Medical Examiner.
Pollock was wearing her seat belt, the news release said.
The cause of the crash is still under investigation.